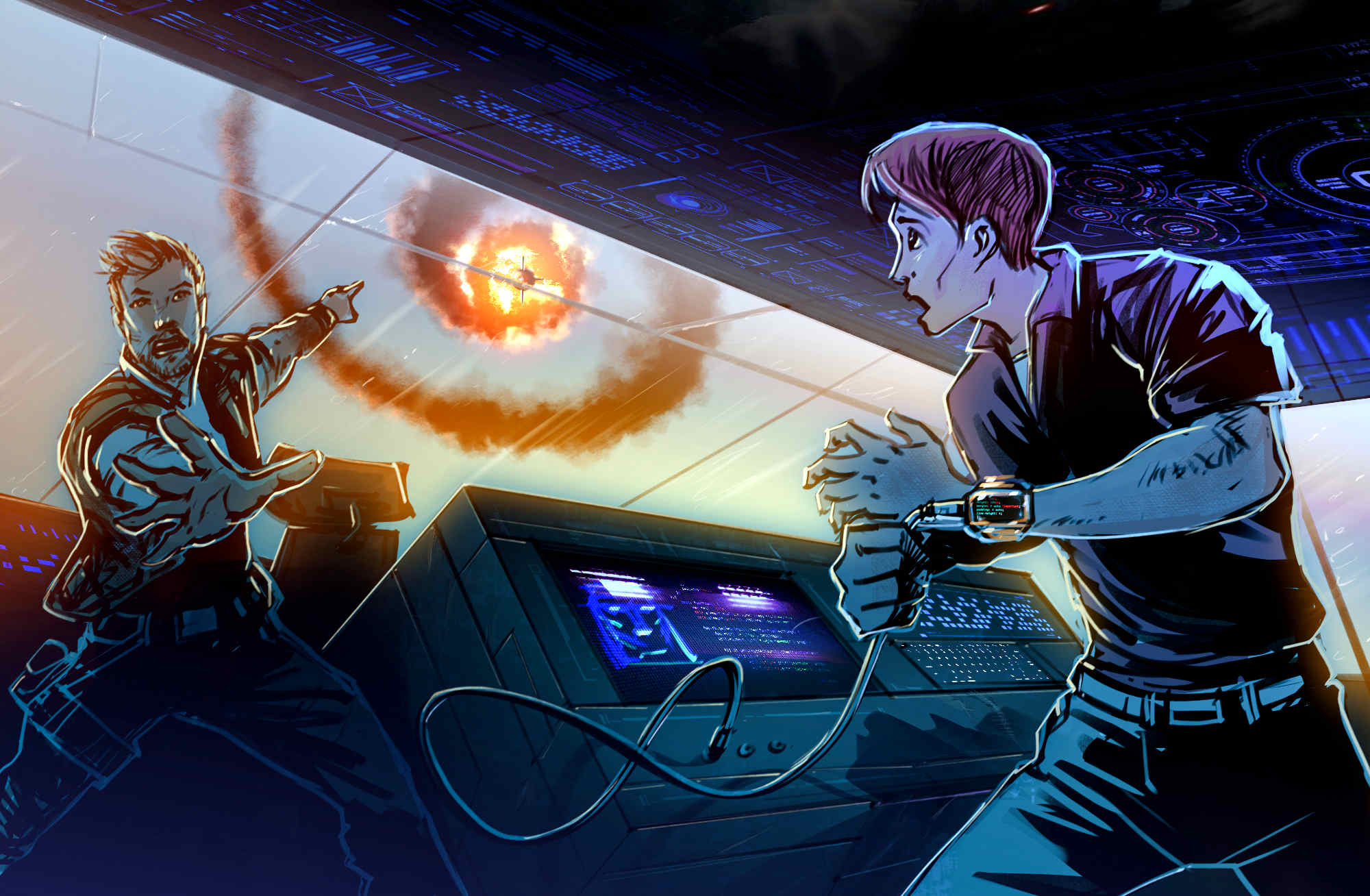 John Storm and Dan Hawk, at the helm of the Elizabeth Swann, discover they have no way to make it in the book or film world, but discover they make excellent comic characters, ideal for publication as graphic novels.



Q5 JOHNNY24 - WHAT IS THE PROBLEM YOU ARE TRYING TO SOLVE AND WHY YOUR PROPOSED APPROACH IS A GOOD INNOVATIVE SOLUTION?

Problem and need (this question will be scored out of 20)

What should I include in this section?

Describe:

5a - the problem your innovation will solve
5b - how big the problem is
5c - who is experiencing the problem
5d - why you are best placed to solve it

5A. Our company is an unknown, with no trading track record. How then to skip the long gestation period from paperback to silver screen?

5B. Book publishing is notoriously laborious, highly dependent on literary skills to be able to cut a book deal with an agent. Where, at present, established Agencies are not taking on new authors, especially those with lesser literary prowess. The film world has similar problems for newbies. Hollywood (for example) is a closed shop, if you are not part of the scene. Typically, you'd need to live in New York or California to be able to network in the right circles to get a script seen. Comics, overcome this potential logjam, in getting popular stories, that might not otherwise see the light of day - out in print - where the film world employ scouts who are constantly on the lookout for original material, to feed their studios, normally only betting on established authors with good circulation figures.
Those authors, representing less of a risk to film companies, who cannot afford to make films that bomb. Explaining why there are so many remakes. There is much less risk making another Spiderman, Batman, Superman, Jurassic remake, Indiana Jones, etc. Typically, a producer would buy the rights to an established author. As in Cubby Broccoli buying the right to Ian Flemming's books to create the Bond 007 franchise. In effect, buying into an existing audience. So, lessening the chance of failure. But even so, recent Bond films reveal a trend. Casino Royale 2006: $150 million vs $616.5 million box office (good). Skyfall 2012: $200 million vs $1.109 billion box office (better). No Time To Die 2021: $300 vs $774.2 million box office (disappointing), indicating that even with Daniel Craig as the lead, 007 can lose his fizz, and can be overplayed.

This is the perceived problem. We need to find a way to get onto the desks of established film studios, or be brought to the attention of budding producers and directors, who are looking for a project with which to launch their careers. To take them out of the remake doldrums. With Bond in dry dock, Indian Jones and Mummy repeats played out. There is a void in the market.
How then to fill that gap? Given, that our literary skills are not special enough to get noticed on prose quality alone - as a good read for readers (maybe). From our reading of what makes good box office in the film world, and looking at the figures, the proposed John Storm franchise could be as successful as Indiana Jones, or the Mummy trilogies. If they are appropriately cast, and treated. Studios, directors, producers and actors constitute the market we are aimed at, via the comic market.
5C. In the movie making business, there is a shortage of original stories, leading to regurgitation of existing franchises, at decreasing intervals, as studio executives come under more pressure to provide passable entertainment, to an audience hungry for visual and audible stimulation. Undoubtedly, Hollywood leads the world in technological excellence, acting like a honey pot where successful directors and producers congregate. But the UK also has a number of Studios that could fill the void left by a risk adverse film world, provided that a choice of genre is made, that stands a fair chance of success at the box office. Jameson Hunter Ltd., is looking for a way to break into the film world, against traditional barriers, that tend to slow the adoption of budding creatives. Such as book adaptations, that presumes a lifelong career as an author, and good circulation, before the giants decide to risk careers on a production. One or two box office failures will typically close doors to actors and directors, for some time. Making those in the hot seat, understandably nervous in the risk department.
5D. The UK is markedly under represented in the super hero genre. Arguably, only James Bond survives as a remnant of the Medieval Knights of old, the original combat superstars with a code of honour, such as Lancelot and the legendary King Arthur. Robin Hood, also comes under this banner, armed with his unnatural ability with a bow and arrow. A kind of super natural power, or skill. But demonstrably, Robin Hood films no longer command good box office.
John Storm is a hybrid character. A new breed of Knight, fighting to protect the natural world and the archaeology that defines man's development, from Tanzania, to the Moon and beyond. He is a cross between 007, Indiana Jones and Benjamin Gates (National Treasure).
CREATIVE CATALYSTS 2023 - 'JOHNNY24' - APPLICATION NO: 10068222
DCMS £30,000 GROWTH INNOVATE UK
DCMS £50,000 CATALYST INNOVATE UK
SUBSIDY BASIS - EU & IRELAND: DECLARATION
PROJECT SUMMARY - BRIEF DESCRIPTION (PITCH)
PUBLIC DESCRIPTION - MORE DETAILED OUTLINE
APPLICATION (HOW TO APPLY) QUESTIONS
Q1 APPLICANT'S LOCATION (Nil score) JAMESON HUNTER LTD SE
Q2 FINANCIAL ASSISTANCE (AWARDS) TO DATE (Nil score)
Q3 PROJECT SECTORS SCOPE ALIGNMENT - PUBLISHING & FILM (Nil score)
Q4 VIDEO DEMONSTRATION (Nil score)
Q5 IDENTIFIED PROBLEM (20 points)
Q6 APPROACH: PROPOSED SOLUTION (20 points)
Q7 PROJECT TEAM & RESOURCES (10 points) JUNE-SEPTEMBER
Q8 WHO ARE YOUR COMPETITORS (10 points)
Q9 ADDED VALUE (10 points)
Q10 PROJECT COSTS (10 points) - 3 YEAR PROJECTION EXAMPLE
Q11 RISKS (10 points)
Q12 VISION & AMBITION (10 points)
FINANCES
PROJECT SPEND PROFILE
TERMS & CONDITIONS - CAUTION ADVISED
APPLICATION AWAITING ASSESSMENT - FILED 15/O2/2023
EXPLOITATION PLAN
Great original stories, in need of character development for graphic novels.