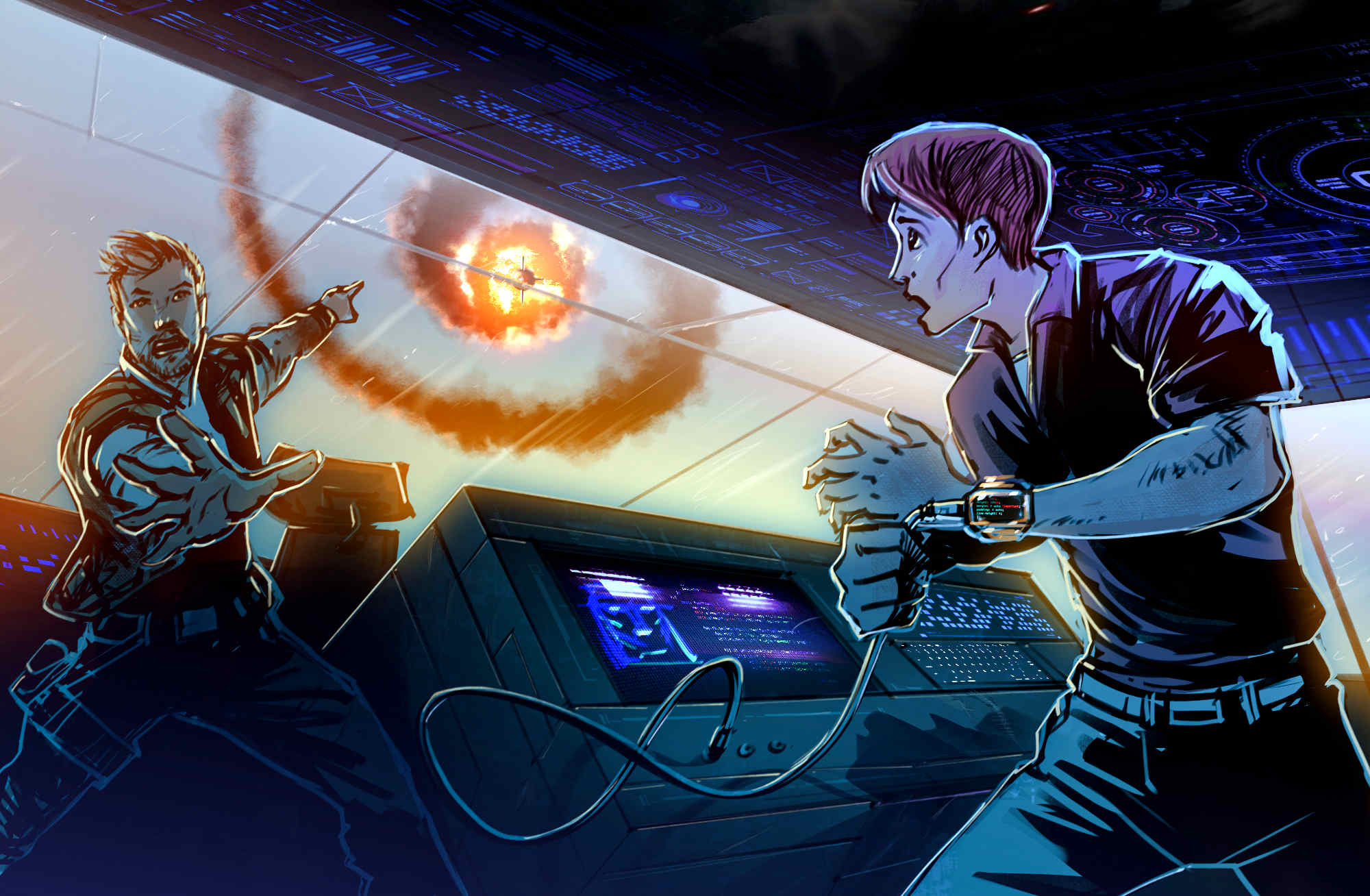 John Storm and Dan Hawk, at the helm of the Elizabeth Swann, discover they have no way to make it in the book or film world without a protracted gestation time, but discover they make excellent comic characters, ideal for publication as graphic novels.



Q9 JOHNNY24 - HOW WILL PUBLIC FUNDING HELP YOU TO ENHANCE YOUR APPROACH TO DEVELOPING YOUR PROJECT TOWARDS COMMERCIALISATION?

Q9. Why should Innovate UK invest in your project and what impact would this award have on the organisations involved?
What should I include in this section?

Explain:

9a - what advantages public funding would offer your project, for example, appeal to investors, more partners, reduced risk or a faster route to market (this list is not exhaustive)

9b - what other routes of investment you have already approached

9c - what your project would look like without public funding

9B. We are not yet in a position to float the concept with the buying public, simply because we do not yet have our characters developed, to be able to instruct artists to produce the first Issue or the proposed 'Cleopatra The Mummy' original story. At this time we have two characters sufficiently developed: John Storm and Dan Hawk. We do not have Cleopatra - the rescue subject.

By developing the (missing) characters needed to complete the "set" for the proposed 1st Issue, we will be in a position to seek advance orders. Until that point in time, we remain in limbo.

You can see from the last application for funding, relating to "Kulo Luna" (not our company) that the project has limped along in the intervening two years. Without a funding boost, our company may still limp along for another two years, at a pace the directors can afford. We are not suggesting that the project will die; simply proceed at a reduced pace.

With funding, we give added value to our project, in building the missing picture of what the cast will look like. The buying public need to see what they are getting for their money. And who can blame them. With funding, like our cover art - we can produce sample story sheets to entice advance orders. Only with sufficient advance orders will we proceed to publish.

Armed with advance orders, we will feel confident about going to print. We have a friendly printer in the West Country. Keeping the work in the UK.
9B9. We have looked at other avenues to fund acceleration of this work, such as commercial banks. But in view of the interest charges, and us not knowing if the proposed 1st Issue will succeed. We thought to test the market in a way that is relatively risk free. I.e. generating advance sales. That of course means a longer gestation period. But with pre-sales, there is almost no risk. Or at least the risks as so much more contained. In that event the only risk is between the time of presenting completed artwork to a printer, and the time to getting the finished article to the buyers. There is no such thing as a totally risk free enterprise.
9C. The project remains on the cards as a contender no matter which route to market, where competitors will find it difficult to plagiarize our work for the high level of Copyright and Trademark protections. The drawback being that we may only proceed at the rate our directors can afford to fund.
CHARACTERS YET TO BE DEVELOPED AS ARTWORK - PROTAGONISTS

Abdullah Amir - Middle eastern marine captain
Ahmed Saleh - Port of El Dekheila, Fisherman who finds location Cleopatra's tomb
Charley Temple - Adventurous researcher & cameraman
Cleopatra, last Pharaoh queen of Egypt reborn - The reincarnated Mummy
Dr Roberta (Bobbie) Treadstone - Blue Shield ocean division, Newcastle Uni
George Franks - Estate trustee
Jack Mason - CIA contact, sometime double agent
Jill Bird - BBC news anchor, overseas services
Marjorie Boyle - Backpacker/blogger, Trinidad
Professor Douglas Storm - Genius & great uncle to John Storm
Professor Jacques Pierre Daccord - UNESCO, subsea archaeology division
Sam Hollis - Reporter, Trinidad Bugle
Steve Green (Greeno) - Freelance investigative bloodhound
US President Lincoln George Truman - Supreme commander US military
William Bates (Billy the Kid) - Californian computer genius
CHARACTERS YET TO BE DEVELOPED AS ARTWORK - ANTAGONISTS

Alexis Luther - Panama - The Panamanian running man, a replicant
Baron Heinrich Richthofen - Obsessed 4th Reich, Neo Nazi occultist
Franco Francisco - Italian scientist, cloning expert
General Sir Rodney Dunbar - Head of MI6 human enhancement
Harold (Dirty Harry) Holland - Chief Constable, Scotland Yard
Husani Hassan - President elect of Egypt
Klaus von Kolreuter - Swiss scientist, human genome expert
Musa Bomani - Hired Egyptian tomb raider -
Nicholas (Nick- The Devil) Johnson MP - UK Minister for Defence
Roberto Ferrara - Italian spy Vatican & Interpol, double agent
Rudolf Kessler - Nazi Egyptologist/archaeologist
Safiya Sabuka - Isis worshiper, descendant of Cleopatra
Sergeant Shaun Flanagan Police officer, Scotland Yard
William Bates (Billy the Kid)

CREATIVE CATALYSTS 2023 - 'JOHNNY24' - APPLICATION NO: 10068222
DCMS £30,000 GROWTH INNOVATE UK
DCMS £50,000 CATALYST INNOVATE UK
SUBSIDY BASIS - EU & IRELAND: DECLARATION
PROJECT SUMMARY - BRIEF DESCRIPTION (PITCH)
PUBLIC DESCRIPTION - MORE DETAILED OUTLINE
APPLICATION (HOW TO APPLY) QUESTIONS
Q1 APPLICANT'S LOCATION (Nil score) JAMESON HUNTER LTD SE
Q2 FINANCIAL ASSISTANCE (AWARDS) TO DATE (Nil score)
Q3 PROJECT SECTORS SCOPE ALIGNMENT - PUBLISHING & FILM (Nil score)
Q4 VIDEO DEMONSTRATION (Nil score)
Q5 IDENTIFIED PROBLEM (20 points)
Q6 APPROACH: PROPOSED SOLUTION (20 points)
Q7 PROJECT TEAM & RESOURCES (10 points) JUNE-SEPTEMBER
Q8 WHO ARE YOUR COMPETITORS (10 points)
Q9 ADDED VALUE (10 points)
Q10 PROJECT COSTS (10 points) - 3 YEAR PROJECTION EXAMPLE
Q11 RISKS (10 points)
Q12 VISION & AMBITION (10 points)
FINANCES
PROJECT SPEND PROFILE
TERMS & CONDITIONS - CAUTION ADVISED
APPLICATION AWAITING ASSESSMENT - FILED 15/O2/2023
EXPLOITATION PLAN
Great original stories, in need of character development for graphic novels.