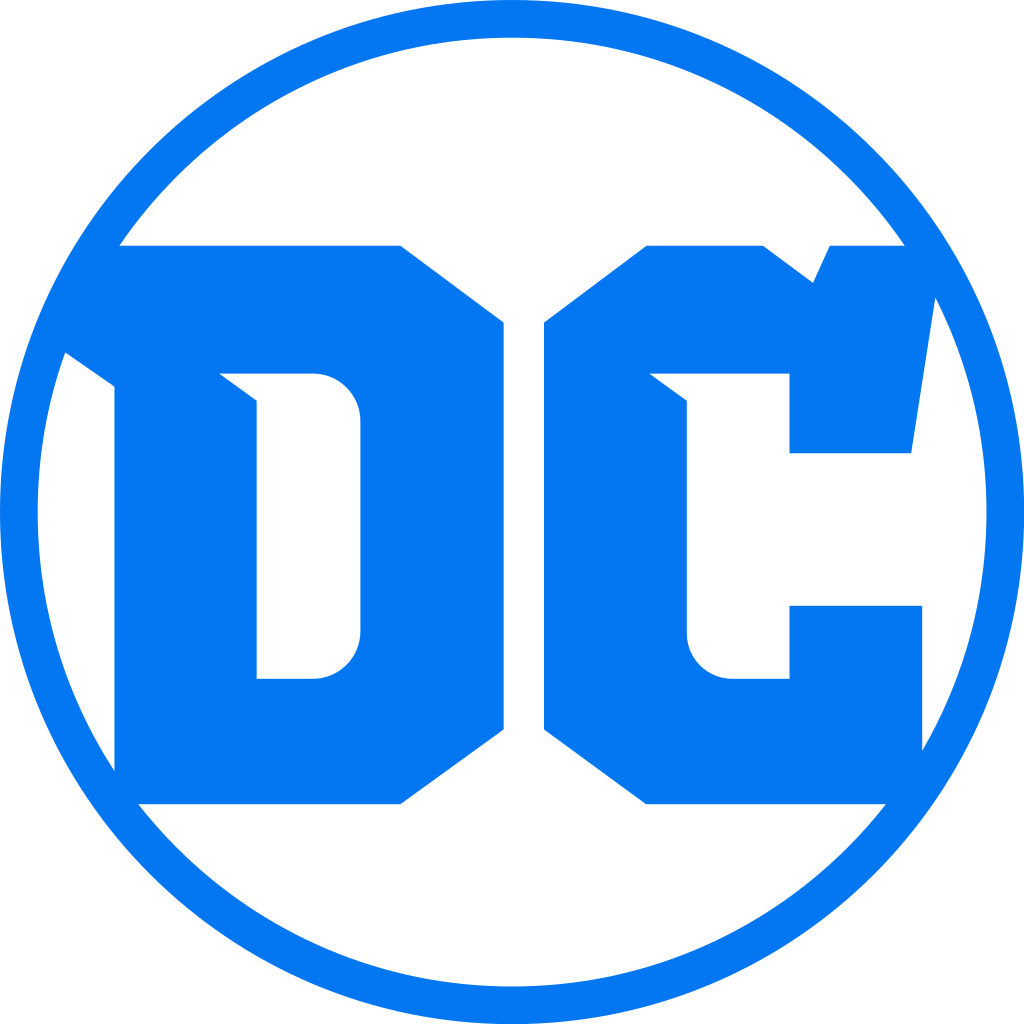 Two of the mainstream comic companies include DC and Marvel Comics, together taking some 72% of the sales of superhero graphic novels. With well known (household names) characters that mostly have unreal abilities, unlike, the medieval knight of old, equipped only with a horse suit of armour and a sword. The obvious place from where Iron Man developed. By comparison, John Storm, and his steed, the Elizabeth Swann, are entirely possible, taking known technology to the limit. There are no super powers. Just enhancements, based on computers and genetic modifications. If for no other reason, readers might like a change from flying people, and space adventures, to something a little more down to earth, and yet still mentally stimulating.

Like so many other superheroes, the market can only take so much. Superman is a recurring (well worn) superhero in the DC universe, somewhat overworked each time they pin their hopes on a new leading man. But, still has sufficient followers to recover the outlay of a remade production, provided there is breathing space between releases.
Clark Kent, also known by his birth name Kal-El or superhero alias Superman, is a fictional character and a superhero in the 2021 The CW television series Superman & Lois; originally developed as a part of the Arrowverse franchise of television series, first mentioned in the 2015 pilot of Supergirl, based on the character of the same name created by Jerry Siegel and Joe Shuster, and adapted for television by Glen Winter, Greg Berlanti and Todd Helbing from the previous Arrowverse adaptation of the character by Berlanti, Andrew Kreisberg, and Jessica Queller. Clark Kent had been portrayed by Tyler Hoechlin in the Arrowverse since 2016 prior to the development of Superman & Lois as a spin-off, in which Hoechlin reprised his role as co-headliner, before the series was retroactively established to be set on an Earth that is different from Earth-Prime in its second season finale.

As commonly depicted in most media featuring the character, Clark is a humanoid alien refugee from the planet Krypton who lands on Earth, developing superhuman abilities and becoming Superman, Earth's only superhero, while also working as a journalist for the Daily Planet newspaper journal in Metropolis, eventually marrying his colleague Lois Lane and having two children — Jordan and Jonathan — with her. In Superman & Lois, after he and Lois are fired from their jobs at the Planet after it is sold to Clark's secret half-brother Tal-Rho (under the alias of Morgan Edge), and Clark's adoptive human mother then dies of a stroke, the Kent family elect to move back to Clark's childhood home in Smallville. After subsequently realizing that one of their sons have also begun to develop superpowers, Clark and Lois reveal his identity as Superman to them.

Prior to starring in Superman & Lois, Hoechlin played various Supermen living in alternate universes depicted throughout multiple Arrowverse series, such as Supergirl, The Flash, Arrow, Batwoman, and Legends of Tomorrow, in particular a version from Earth-38 who has a cousin, Kara Danvers / Supergirl (the main character of Supergirl, in which Hoechlin had first portrayed Superman), a character who does not exist on the as-yet-designated Earth seen in Superman & Lois.

CONCEPT & CREATION

As one of the most prominent superheroes for DC Comics, Superman had previously been portrayed in TV several times and most prominently in the 2001 to 2011 TV series Smallville, with Tom Welling taking on the role of Superman. The first show about the character came in the 1950s, titled Adventures of Superman, with George Reeves portraying Superman. Two more series came in the 1980s and 1990s, Superboy and Lois & Clark: The New Adventures of Superman. Welling's performance was widely regarded as one of the greatest in the character's history, but after that series' finale, the character was seen only in films for several years. Meanwhile, the film Man of Steel, which was released in 2013, saw Henry Cavill take up the mantle of Superman, with the film becoming the starting point of the DC Extended Universe.

With the announcement of a Supergirl TV show, speculation arose as to whether Superman would appear. The character appeared in silhouette only in season 1, portrayed by Kevin Caliber. Eventually, Hoechlin appeared in season 2 as Superman in a recurring capacity. He would later return for the Arrowverse crossover events Elseworlds and Crisis on Infinite Earths. In 2019, a series featuring Hoechlin portraying Clark was announced, which premiered in 2021, ten years after the finale of Welling's Smallville, titled Superman & Lois. While initially announced as a spin-off of Supergirl set in The CW's Arrowverse, Superman & Lois was later established to be set on its own Earth, separate from Earth-Prime's continuity.

CHARACTERIZATION

Hoechlin was cast as Superman on the CW show Supergirl in 2016 and was "the only choice" according to Greg Berlanti. Describing the casting as "surreal", Hoechlin said he hoped to successfully embody the optimism of the character and maintain the idea of Superman as a symbol of hope. Hoechlin, at first, didn't want to take the role, because of the weight it had. When asked about the character in his show, Superman & Lois, he said "It's really not a show about Superman, it's about a husband and a wife who are parents and the husband happens to be Superman." and added "I've intentionally stayed away [from Superman since getting the role]. I've found it more beneficial to have an impulse and trust it without the hesitation of, 'Oh, so-and-so already did that.' It makes it easier to just go do my thing without overthinking it." Hoechlin, when asked about having to play multiple characters in Superman & Lois, said that "it was tough, but he could handle it", after having previously portrayed alternate versions of Superman in the Arrowverse.

SUIT DESIGN

Superman's bodysuit in Supergirl is a classic design, inspired mainly by the Man of Steel one, and has many elements in common with Melissa Benoist's Supergirl's costume. After Superman & Lois was greenlit, a new suit was created. Hoechlin, commenting on the new suit, said: "It represents everything that Superman stands for and has stood for, for almost a century now." Hoechlin commented that the new suit represents everyone who see something in the symbol of it. The costume was designed by Laura Jean Shannon, who also worked for other DC shows, such as Titans and Black Lightning, and who made many changes to the traditional look. According to popular website Den of Geek, "[The] new suit fixes all of those problems, with dynamic lines that help showcase the actor's physique, cleaning up some flourishes, and generally bringing it all together with a more classic look for the character. But it's not too classic, as there's still a few elements that are uniquely modern, and should look really great in action."

In earlier Arrowverse appearances, Hoechlin wore other suits, like a black one paying homage to the Reign of the Supermen comic book storyline, and a suit similar to the first one Superman wore in Max Fleischer's Action Comics #1.

EARLY LIFE

Clark was born in 1979, on the planet Krypton, and his pod crashed in Smallville, Kansas, and was found by Jonathan and Martha Kent, after the destruction of the planet. He attended Smallville High School, where he befriended Kyle Cushing and Lana Lang. At some point his father died due to a heart attack. A year after his father's death, Clark struggled with finding his purpose on Earth and began using his powers to help people in secret, concealing his identity by wearing a ski-mask. After leaving Smallville, he discovered the Fortress of Solitude where the AI version of his biological father, Jor-El, was waiting for him. After their discussion and a period of training with Jor-El, he returned to Smallville, where he talked to his mother about his discoveries, and she encouraged him to become a hero, wearing a hand-made suit she created for him. Clark decided to move to Metropolis and work for the Daily Planet, where he met a fellow journalist, Lois Lane. Clark eventually proposed to her and they married in Smallville. In 2007, Lois gave birth to twins, Jonathan and Jordan. Lois was also pregnant with a daughter she intended to name Natalie, but she had a miscarriage and lost the baby, an event that haunted her and Clark.

2013 FILM - MAN OF STEEL

Man of Steel is a 2013 superhero film based on the DC Comics character Superman. Directed by Zack Snyder from a screenplay by David S. Goyer, it is the first installment in the DC Extended Universe (DCEU) and a reboot of the Superman film series, depicting the character's origin story. It stars Henry Cavill in the title role along with Amy Adams, Michael Shannon, Kevin Costner, Diane Lane, Laurence Fishburne, and Russell Crowe. In the film, Clark Kent learns that he is a superpowered alien from the planet Krypton. He assumes the role of mankind's protector as Superman, making the choice to face General Zod and prevent him from destroying humanity.

Development began in 2008 when Warner Bros. took pitches from comic book writers, screenwriters, and directors, opting to reboot the franchise. In 2009, a court ruling resulted in Jerry Siegel's family recapturing the rights to Superman's origins and Siegel's copyright. The decision stated that Warner Bros. did not owe the families additional royalties from previous films, but if they did not begin production on a Superman film by 2011, then the Shuster and Siegel estates would be able to sue for lost revenue on an unproduced film. Producer Christopher Nolan pitched Goyer's idea after a story discussion on The Dark Knight Rises, and Snyder was hired as the film's director in October 2010. Principal photography began in August 2011 in West Chicago, Illinois, before moving to Vancouver and Plano, Illinois.

Man of Steel premiered in the Alice Tully Hall on June 10, 2013, and was released in the United States on June 14, 2013. Critics felt the film's visually-appealing action sequences were not enough to overcome its descent into "generic blockbuster territory", and they were divided over Cavill's performance as Superman. It grossed over $668 million worldwide, becoming the ninth-highest-grossing film of 2013. A follow-up titled Batman v Superman: Dawn of Justice was released on March 25, 2016, while a direct sequel under various stages of development since 2014 was canceled following the restructuring of DC Films as DC Studios in late 2022.

PLOT

The planet Krypton is destabilized from the mining of the planetary core. Just before the planet explodes, Krypton's supreme council chief advisor Jor-El infuses the genetics codex into his infant son, Kal-El, the first naturally born Kryptonian child in centuries. Jor-El manages to send Kal-El in a spacecraft toward Earth before being killed by General Zod during an uprising. Kal-El lands in Kansas, where he is adopted by Jonathan and Martha Kent and named Clark. As he grows older, he develops superhuman powers that Jonathan urges him to keep hidden, even refusing Clark's help years later during a tornado incident where he loses his life. Burdened with guilt over Jonathan's death, Clark travels the globe hiding under various aliases seeking a purpose in life.

Daily Planet reporter Lois Lane receives an assignment to investigate the discovery of a Kryptonian scout ship in the Canadian Arctic. Clark enters the ship disguised as a worker and learns from its artificial intelligence (AI), modeled after his father Jor-El, that Clark was sent to Earth to guide its people. While following Clark, Lois inadvertently triggers the ship's security system, and he uses his powers to rescue Lois from its defenses. He wears a uniform provided by the ship's AI and begins testing his flying abilities. Unable to convince supervisor Perry White to publish an article on the incident, Lois tracks down Clark in Smallville, with the intent of exposing him. However, Lois drops the story upon hearing of Jonathan Kent's sacrifice, keeping Clark's identity safe, which fuels Perry's suspicions.

Zod and his crew escape the Phantom Zone, where they were imprisoned for treason for their actions against Krypton. They travel to Earth to turn it into a new Krypton, possessing several terraforming devices salvaged from Kryptonian outposts. Following Clark and Lois' capture, Zod's science officer, Jax-Ur, extracts Clark's genes to create Kryptonian colonists who will build a society based on Zod's ideals of genetic purity. Using the Jor-El AI to take over the ship, Clark and Lois flee and warn the U.S. military of Zod's plan, resulting in an explosive confrontation between Clark and Zod's troops.

Zod deploys his most powerful terraforming device, the World Engine, which severely damages Metropolis and puts humanity's existence at risk. Clark destroys the terraforming platform while the military launches a suicide attack, sending Zod's troops back to the Phantom Zone. With the ship destroyed and Krypton's only hope of revival gone, Zod vows to destroy Earth and its inhabitants out of revenge. The two Kryptonians engage in a lengthy battle across Metropolis, which concludes when Clark is forced to kill Zod as he attacks a family in a train station. Sometime later, Clark adopts the moniker "Superman" and persuades the government to let him act independently, under the condition he does not turn against humanity. To gain covert access to dangerous situations, he takes a job under his civilian identity, Clark Kent, as a freelance reporter for the Daily Planet.

BOX OFFICE & CRITICS

Man of Steel grossed $291 million in the United States and Canada, and $377 million in other territories, for a worldwide total of $668 million, making it the highest-grossing solo Superman film of all time and the second-highest when adjusting for inflation. It is also the second-highest-grossing reboot of all time behind The Amazing Spider-Man. Deadline Hollywood calculated the net profit of the film to be $42.7 million, when factoring together all expenses and revenues, making it the ninth most profitable release of 2013. The film earned $116.6 million on its opening weekend, including $17.5 million from IMAX theaters. Man of Steel earned an additional $120 million from DVD and Blu-ray sales.

Man of Steel made $12 million from a Thursday night Walmart screening program, and an additional $9 million from midnight shows. This marked Warner Bros.' third-highest advance night/midnight opening, and the biggest advance night/midnight debut for a non-sequel. The film eventually earned $44 million during its opening Friday (including midnight grosses) and $56.1 million when the Thursday night showings are included. The opening-day gross was the second-highest for a non-sequel, and the 20th-largest overall. Its opening weekend gross of $116.6 million was the third-highest of 2013, behind Iron Man 3 ($174.1 million) and The Hunger Games: Catching Fire ($158.1 million), and the third-highest among non-sequels, behind Marvel's The Avengers ($207.4 million) and The Hunger Games ($152.5 million). It also broke Toy Story 3's record ($110.3 million) for the highest weekend debut in June (the record was again broken two years later by Jurassic World's opening gross of $208.8 million). However, on its second weekend, Man of Steel's box office fell almost 65%–68% if the Thursday night gross is included—putting it in third place, behind Monsters University and World War Z. Box Office Mojo called it an "abnormally large drop," close to the second-weekend decline for Green Lantern.

Man of Steel earned $73.3 million on its opening weekend from 24 countries, which includes $4.2 million from 79 IMAX theaters, setting a June opening-weekend record for IMAX. The film set an opening-day record in the Philippines with $1.66 million. In the United Kingdom, Ireland and Malta, the film earned $5.6 million on its opening day and £11.2 million ($17.47 million) on its opening weekend. Its biggest opener outside the United States was in China, with $25.9 million in four days (Thursday to Sunday). In total earnings, its three largest countries after North America are China ($63.4 million), the United Kingdom, Ireland and Malta ($46.2 million) and Australia ($22.3 million).

On review aggregator Rotten Tomatoes the film has an approval rating of 56% based on 340 reviews and an average rating of 6.2/10. The site's consensus reads, "Man of Steel's exhilarating action and spectacle can't fully overcome its detours into generic blockbuster territory." On Metacritic, the film received a weighted score of 55 out of 100 based on 47 critics, indicating "mixed or average reviews". Audience polls in North America from CinemaScore for the film tallied an average grade of an "A−" on an A+ to F scale, with those under the age of 18 and older than 50 giving it an "A". Cavill's performance as Superman earned mixed reviews, with some critics commenting on perceived stiffness and a lack of charisma.

Richard Roeper of the Chicago Sun-Times said that Man of Steel covered no new ground with regard to Superman films, and instead, "we're plunged back into a mostly-underwhelming film, with underdeveloped characters and supercharged-fight scenes that drag on and offer nothing new in the way of special-effects creativity". The Boston Globe's Ty Burr wrote, "What's missing from this Superman saga is a sense of lightness, of pop joy". The Washington Post's Ann Hornaday stated that with "Hans Zimmer's turgid, over-produced score", the film "is an exceptionally-unpleasant viewing experience". For The Denver Post's Lisa Kennedy, the chief problem with Man of Steel is the "rhythm and balance in the storytelling and directing" which resulted in a film that swings "between destructive overstatement and flat-footed homilies."

Kofi Outlaw, Editor-in-Chief at Screen Rant, gave Man of Steel a 4-out-of-5-star review, stating that "Man of Steel has more than earned its keep, and deserves to be THE iconic Superman movie for a whole new generation". He would go on to name Man of Steel the best superhero movie of 2013. Jim Vejvoda of IGN gave Man of Steel a 9 out of 10 while praising the action sequences and the performances of Kevin Costner, Russell Crowe and Michael Shannon. The performance of Antje Traue as Superman's adversary Faora-Ul, particularly in the Smallville battle scenes, has also been lauded. Peter Travers of Rolling Stone gave it 3 stars out of 4, saying, "Caught in the slipstream between action and angst, Man of Steel is a bumpy ride for sure. But there's no way to stay blind to its wonders."

Todd McCarthy of The Hollywood Reporter said rebooting the franchise was unnecessary, but that the film was confident enough and Snyder's attention to detail careful enough that audiences could overlook another reboot. PopMatters journalist J.C. Maçek III, wrote, "The path of this flawed savior isn't quite the one that we have been led to expect and many fans will love that and many fans will decry its comic book-divergent choices. On the other hand, barring Lois Lane's own knowledge of the dual nature of Clark and Superman (thus depriving one of fiction's greatest reveals), the hero we see in the final moments of Man of Steel is nothing if not the character Jerry Siegel and Joe Shuster created ... with just a bit more in the 'imperfections' column."

Steve Persall of the Tampa Bay Times stated that, "Man of Steel is more than just Avengers-sized escapism; it's an artistic introduction to a movie superhero we only thought we knew." Time magazine's Richard Corliss said, "The movie finds its true, lofty footing not when it displays Kal-El's extraordinary powers, but when it dramatizes Clark Kent's roiling humanity. The super part of Man of Steel is just okay, but the man part is super." In a review on Roger Ebert's website, Matt Zoller Seitz awarded the film three out of four stars, calling it an "astonishing movie" and praising the conflict between Clark and Zod. But he criticized the film for not having more personal and intimate moments between Clark and Lois. In 2014, Empire ranked Man of Steel the 286th-greatest film ever made on their list of "The 301 Greatest Movies Of All Time" as voted by the magazine's readers.

Speaking to Fox Business Channel, Grae Drake, senior editor of Rotten Tomatoes, expressed dismay over the critical reception, stating, "As much as I love and respect our critics at Rotten Tomatoes, I've got to say I am shocked. Listen, the movie's not perfect but ... I just cannot fathom it. It was a good movie, you guys."

Reaction to the film among comics creators was mixed. Those who enjoyed it include Jeff Parker, Heidi MacDonald, Ethan Van Sciver, Christos Gage and former Superman writer Dan Jurgens. Among its detractors were Joe Keatinge, Sean McKeever, Gabriel Hardman and Mark Waid. MacDonald praised the film's action, drama and leads Henry Cavill and Amy Adams.

Van Sciver singled out Cavill in particular for praise. Gage called it the best Superman film since 1980's Superman II. Hardman said that he liked a lot of the mechanics but did not connect with the characters, which robbed the story of tension. Waid, who wrote the origin miniseries Superman: Birthright, criticized the film for its overall "joyless" tone, and for Superman's decision to kill Zod, a criticism echoed by other creators. Writer Grant Morrison, who wrote the critically acclaimed miniseries All-Star Superman, expressed mixed reaction to the film, saying that while they "kinda liked it and kinda didn't", it did not present anything new, as they would have preferred a "second act" type story with Lex Luthor instead of re-establishing the character by presenting information Morrison is already familiar with. Morrison also questioned the need for a superhero to kill, as did artist Neal Adams.

Adams suggested that other alternatives were open to Superman when Zod threatened innocent people with his heat vision, such as covering his eyes. He also criticized Superman for not moving the battle away from Metropolis as the character did at the end of Superman II. Jim Lee had a positive opinion: "It's epic. It's got a lot of heart, but one of the things that was kind of missing from the last Superman movie I think was the action, and this movie has it in spades. I mean it is a visual thrill ride. It is amazing. You get to see all the powers of Superman, and in all its glory, and I think people are going to be blown away."
COMIC MARKET SHARE

DC Comics and its longtime major competitor Marvel Comics together shared approximately 70% of the American comic book market in 2017. With the sales of all books included, DC is the second biggest publisher, after Viz Media, and Marvel is third.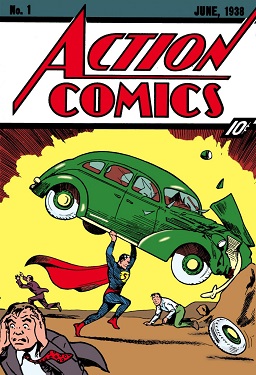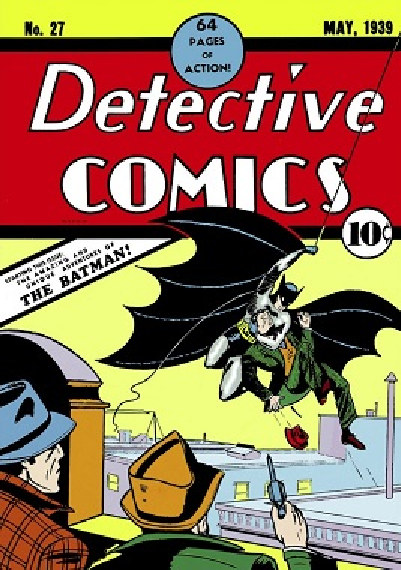 BIRTH OF THE SUPERHERO - Detective Comics, Inc. launched a new anthology title, entitled Action Comics. Issue#1, cover dated in June 1938, first featured characters such as Superman by Siegel and Shuster, Zatara by Fred Guardineer and Tex Thompson by Ken Finch and Bernard Baily. It is considered to be the first comic book to feature the new character archetype, soon known as "superheroes", and was a sales hit bringing to life a new age of comic books with the credit going to the first appearance of Superman both being featured on the cover and within the issue. It is now one of the most expensive and valuable comic book issues of all time. The issue's first featured tale which starred Superman was the first to feature an origin story of superheroes with the reveal of an unnamed planet later known as Krypton that he is said to be from. The issue also contained the first essential supporting character and one of the earliest essential female characters in comics with Lois Lane as Superman's first depicted romantic interest.
BATMAN IS BORN - All-American Publications' first comic series called All-American Comics was first published in April 1939. The series of Detective Comics would make successful history as first featuring Batman by Bob Kane and Bill Finger in issue#27 (March 1939) with the request of more superhero titles. Batman was depicted as a masked vigilante depicted as wearing a suit known as the Batsuit along with riding a car that would later be referred to as the Batmobile. Also within the Batman story was the supporting character, James Gordon, Police commissioner of what later would be Gotham City Police Department.
DC COMIC SUPER HEROES - A TO Z
Aquaman - Arthur Curry
Batman - Bruce Wayne
Superman - Clark Kent
Wonder Woman - Princess Dianna
.....