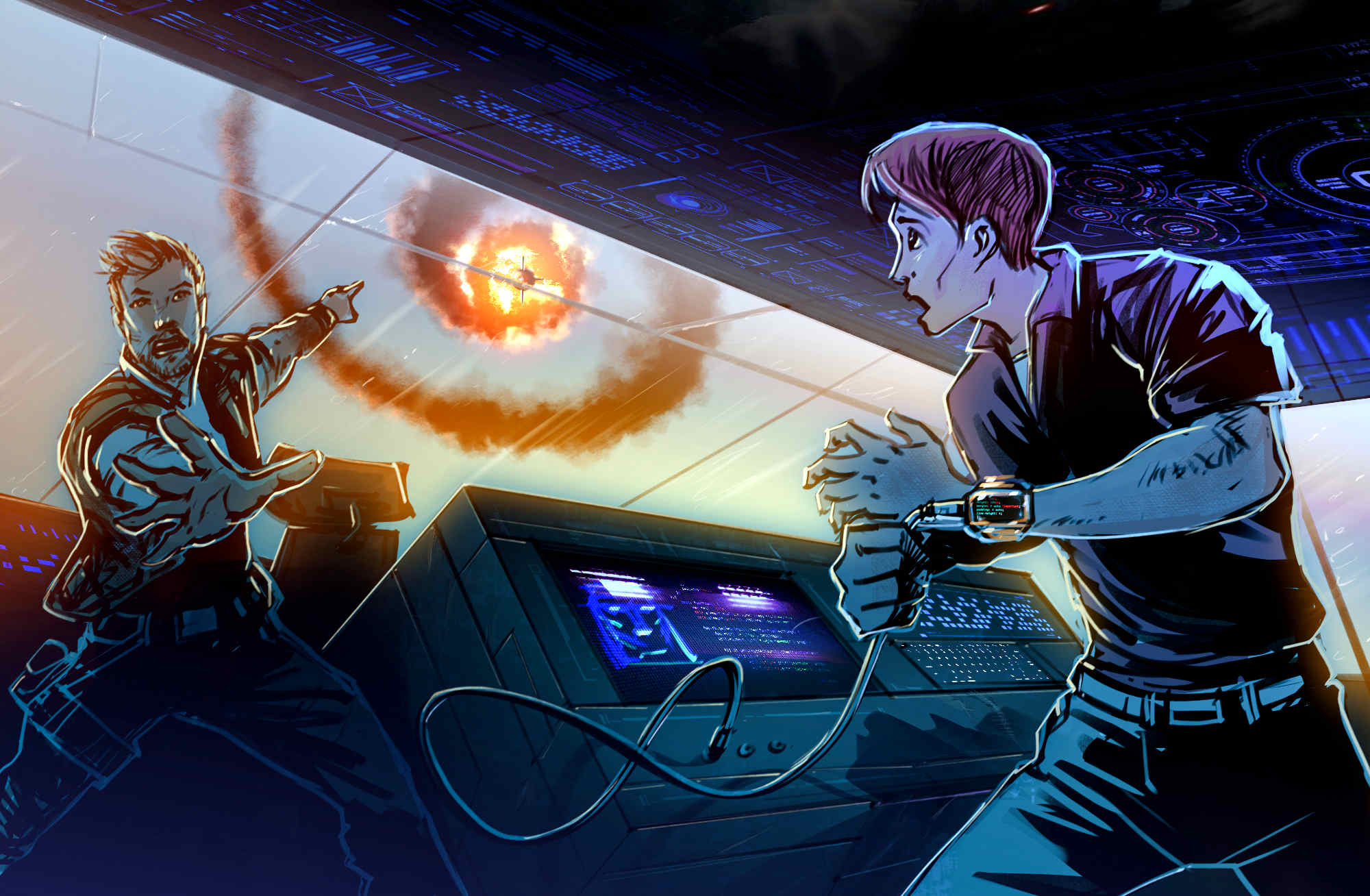 John Storm and Dan Hawk, at the helm of the Elizabeth Swann, discover they have no way to make it in the book or film world without a protracted gestation time, but discover they make excellent comic characters, ideal for publication as graphic novels.



Q12 JOHNNY24 - WHY ARE YOU SO PASSIONATE ABOUT YOUR PROJECT AND COMMITTED TO MAKING IT HAPPEN? WHAT IS YOUR AMBITION FOR YOUR ORGANISATION AND HOW WILL THE OUTCOMES OF THIS PROJECT SUPPORT THESE AMBITIONS?

Q12. Vision and ambition (this question will be scored out of 10)

Explain

12a - your big vision and ambition
12b - where you see your company in three years' time
12c - why you believe in this project

12A. Our Big Vision is to be able to use the super hero John Storm, to promote sustainable lifestyles, mainly focusing on climate change and ocean conservation issues, but also why it is imperative to protect our cultural heritage. To do this we need to develop original stories that are mainstream market acceptable. They cannot be thinly veiled docu-dramas, for they may not reach man, only the already converted few. They need to be solid mainstream entertainment, incorporating somewhat more subtle sustainability messages, that tend not to interfere with the adventure. Firstly as comics, and more long term as film entertainment.
According to data form the past few years, (as presented by Luc Bourcier, Izneo), comic books represent a worldwide market of some 6 billion EUR, with 4 major territories involved and a growing digital dimension, especially outside of Europe. Japan is the largest comics market in the world: worth 2.6 billion EUR (43% of the global market), its revenues are 55% from digital; South Korea has a market of 662 million EUR (11%), with half of the revenues from digital (back in 2015); in the US, the market is worth 927 million EUR (15%), with a digital share of 8.7%; France comes in fourth with 550 million € of sales (8%), of which 3% digital; the rest of the world completes the picture with 1.342 billion EUR of sales.
12B. With the above in mind, and including Manga in our vision at the appropriate time, not within 3 years. In three years time we hope (and are aiming) to have published all three Issues of the 'Cleopatra The Mummy' comic. The story will be divided into 3 issues of around 65 pages each. Assuming that sales of the first issue, make it worth pressing on with the second and third, we will be working on production of 'Treasure Island,' which may work better if issued every three months, rather than with long periods between issues. Hence, we'd need to be using the income from Cleopatra, to invest in faster development of Treasure Island. Thence, onto 'Kulo Luna,' such as to maintain reader momentum.
That should mean that in three years time we will be negotiating the licensing of these original works to the film world. From there, we continue to generate stories for the Second Series, beginning with 'The Holy Compass.' It should also mean that in tandem we may be seeking publishing partners in Europe, USA and Japan.
12C. Granted, that the DCMS is not the correct Government department to be canvassing for transport infrastructure. Nevertheless, we believe that there is a future for hydrogen and solar assisted marine transport. The Elizabeth Swann being one such craft.
Zero emission craft will help to reduce CO2 production, hence acid oceans. By introducing a clean ship, piloted by an enhanced Captain, and a partly AI crew, we hope to be able to help the introduction of clean container ships, by influencing fleet operators, via their siblings, as our target audience. It's a bit like having James Bond drive a hydrogen powered Aston Martin. Or Maverick in Top Gun flying hydrogen powered (E) jets. A lot of students will be aiming for that ideal. And, it may happen. James Bond may be brought into the world of clean motoring, and Maverick Junior may one day fly clean jets. But, we thought of it first.

CREATIVE CATALYSTS 2023 - 'JOHNNY24' - APPLICATION NO: 10068222
DCMS £30,000 GROWTH INNOVATE UK
DCMS £50,000 CATALYST INNOVATE UK
SUBSIDY BASIS - EU & IRELAND: DECLARATION
PROJECT SUMMARY - BRIEF DESCRIPTION (PITCH)
PUBLIC DESCRIPTION - MORE DETAILED OUTLINE
APPLICATION (HOW TO APPLY) QUESTIONS
Q1 APPLICANT'S LOCATION (Nil score) JAMESON HUNTER LTD SE
Q2 FINANCIAL ASSISTANCE (AWARDS) TO DATE (Nil score)
Q3 PROJECT SECTORS SCOPE ALIGNMENT - PUBLISHING & FILM (Nil score)
Q4 VIDEO DEMONSTRATION (Nil score)
Q5 IDENTIFIED PROBLEM (20 points)
Q6 APPROACH: PROPOSED SOLUTION (20 points)
Q7 PROJECT TEAM & RESOURCES (10 points) JUNE-SEPTEMBER
Q8 WHO ARE YOUR COMPETITORS (10 points)
Q9 ADDED VALUE (10 points)
Q10 PROJECT COSTS (10 points) - 3 YEAR PROJECTION EXAMPLE
Q11 RISKS (10 points)
Q12 VISION & AMBITION (10 points)
FINANCES
PROJECT SPEND PROFILE
TERMS & CONDITIONS - CAUTION ADVISED
APPLICATION AWAITING ASSESSMENT - FILED 15/O2/2023
EXPLOITATION PLAN
Great original stories, in need of character development for graphic novels.