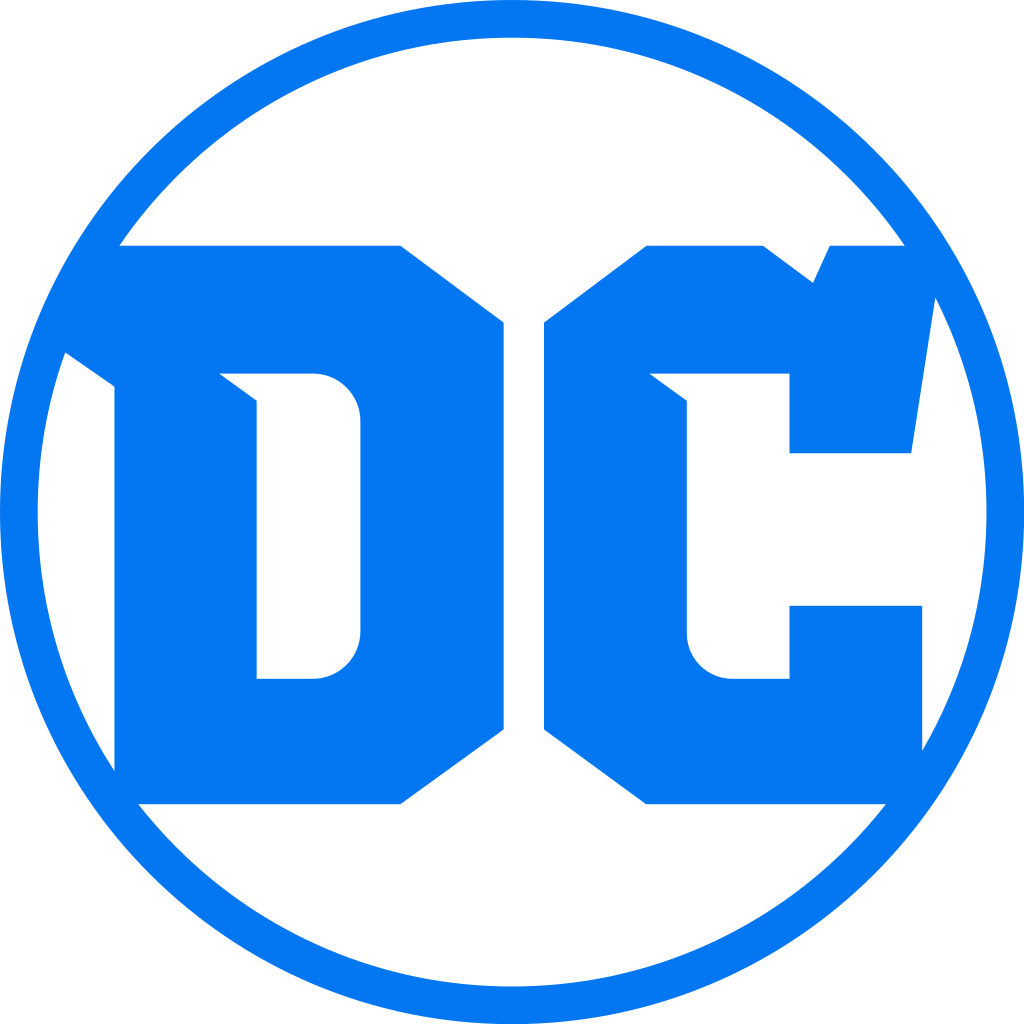 Two of the mainstream comic companies include DC and Marvel Comics, together taking some 72% of the sales of superhero graphic novels. With well known (household names) characters that mostly have unreal abilities, unlike, the medieval knight of old, equipped only with a horse suit of armour and a sword. The obvious place from where Iron Man developed. By comparison, John Storm, and his steed, the Elizabeth Swann, are entirely possible, taking known technology to the limit. There are no super powers. Just enhancements, based on computers and genetic modifications. If for no other reason, readers might like a change from flying people, and space adventures, to something a little more down to earth, and yet still mentally stimulating.

Batman is a recurring (well worn) superhero in the DC universe, somewhat overworked each time they pin their hopes on a new leading man. But, still has sufficient followers to recover the outlay of a remade production, provided there is breathing space between releases.
Batman is a superhero appearing in American comic books published by DC Comics. The character was created by artist Bob Kane and writer Bill Finger, and debuted in the 27th issue of the comic book Detective Comics on March 30, 1939. In the DC Universe continuity, Batman is the alias of Bruce Wayne, a wealthy American playboy, philanthropist, and industrialist who resides in Gotham City. Batman's origin story features him swearing vengeance against criminals after witnessing the murder of his parents Thomas and Martha as a child, a vendetta tempered with the ideal of justice. He trains himself physically and intellectually, crafts a bat-inspired persona, and monitors the Gotham streets at night. Kane, Finger, and other creators accompanied Batman with supporting characters, including his sidekicks Robin and Batgirl; allies Alfred Pennyworth, James Gordon, and Catwoman; and foes such as the Penguin, the Riddler, Two-Face, and his archenemy, the Joker.

Kane conceived Batman in early 1939 to capitalize on the popularity of DC's Superman; although Kane frequently claimed sole creation credit, Finger substantially developed the concept from a generic superhero into something more bat-like. The character received his own spin-off publication, Batman, in 1940. Batman was originally introduced as a ruthless vigilante who frequently killed or maimed criminals, but evolved into a character with a stringent moral code and strong sense of justice. Unlike most superheroes, Batman does not possess any superpowers, instead relying on his intellect, fighting skills, and wealth. The 1960s Batman television series used a camp aesthetic, which continued to be associated with the character for years after the show ended. Various creators worked to return the character to his darker roots in the 1970s and 1980s, culminating with the 1986 miniseries The Dark Knight Returns by Frank Miller.

DC has featured Batman in many comic books, including comics published under its imprints such as Vertigo and Black Label. The longest-running Batman comic, Detective Comics, is the longest-running comic book in the United States. Batman is frequently depicted alongside other DC superheroes, such as Superman and Wonder Woman, as a member of organizations such as the Justice League and the Outsiders. In addition to Bruce Wayne, other characters have taken on the Batman persona on different occasions, such as Jean-Paul Valley / Azrael in the 1993–1994 "Knightfall" story arc; Dick Grayson, the first Robin, from 2009 to 2011; and Jace Fox, son of Wayne's ally Lucius, as of 2021. DC has also published comics featuring alternate versions of Batman, including the incarnation seen in The Dark Knight Returns and its successors, the incarnation from the Flashpoint (2011) event, and numerous interpretations from Elseworlds stories.

One of the most iconic characters in popular culture, Batman has been listed among the greatest comic book superheroes and fictional characters ever created. He is one of the most commercially successful superheroes, and his likeness has been licensed and featured in various media and merchandise sold around the world; this includes toy lines such as Lego Batman and video games like the Batman: Arkham series. Batman has been adapted in live-action and animated incarnations, including the 1960s Batman television series played by Adam West and in film by Michael Keaton in Batman (1989), Batman Returns (1992), and The Flash (2023), Val Kilmer in Batman Forever (1995), George Clooney in Batman and Robin (1997), Christian Bale in The Dark Knight trilogy (2005–2012), Ben Affleck in the DC Extended Universe (2016–present), and Robert Pattinson in The Batman (2022). Kevin Conroy, Diedrich Bader, Jensen Ackles, Troy Baker, and Will Arnett, among others, have provided the character's voice.

BRUCE WAYNE

Batman's secret identity is Bruce Wayne, a wealthy American industrialist. As a child, Bruce witnessed the murder of his parents, Dr. Thomas Wayne and Martha Wayne, which ultimately led him to craft the Batman persona and seek justice against criminals. He resides on the outskirts of Gotham City in his personal residence, Wayne Manor. Wayne averts suspicion by acting the part of a superficial playboy idly living off his family's fortune and the profits of Wayne Enterprises, his inherited conglomerate. He supports philanthropic causes through his nonprofit Wayne Foundation, which in part addresses social issues encouraging crime as well as assisting victims of it, but is more widely known as a celebrity socialite. In public, he frequently appears in the company of high-status women, which encourages tabloid gossip while feigning near-drunkenness with consuming large quantities of disguised ginger ale since Wayne is actually a strict teetotaler to maintain his physical and mental prowess. Although Bruce Wayne leads an active romantic life, his vigilante activities as Batman account for most of his time.

Various modern stories have portrayed the extravagant, playboy image of Bruce Wayne as a facade. This is in contrast to the Post-Crisis Superman, whose Clark Kent persona is the true identity, while the Superman persona is the facade. In Batman Unmasked, a television documentary about the psychology of the character, behavioral scientist Benjamin Karney notes that Batman's personality is driven by Bruce Wayne's inherent humanity; that "Batman, for all its benefits and for all of the time Bruce Wayne devotes to it, is ultimately a tool for Bruce Wayne's efforts to make the world better". Bruce Wayne's principles include the desire to prevent future harm and a vow not to kill. Bruce Wayne believes that our actions define us, we fail for a reason and anything is possible.

Writers of Batman and Superman stories have often compared and contrasted the two. Interpretations vary depending on the writer, the story, and the timing. Grant Morrison notes that both heroes "believe in the same kind of things" despite the day/night contrast their heroic roles display. Morrison notes an equally stark contrast in their real identities. Bruce Wayne and Clark Kent belong to different social classes: "Bruce has a butler, Clark has a boss." T. James Musler's book Unleashing the Superhero in Us All explores the extent to which Bruce Wayne's vast personal wealth is important in his life story, and the crucial role it plays in his efforts as Batman.

Will Brooker notes in his book Batman Unmasked that "the confirmation of the Batman's identity lies with the young audience ... he doesn't have to be Bruce Wayne; he just needs the suit and gadgets, the abilities, and most importantly the morality, the humanity. There's just a sense about him: 'they trust him ...and they're never wrong."

PERSONALITY

Batman's primary character traits can be summarized as "wealth; physical prowess; deductive abilities and obsession".[86] The details and tone of Batman comic books have varied over the years with different creative teams. Dennis O'Neil noted that character consistency was not a major concern during early editorial regimes: "Julie Schwartz did a Batman in Batman and Detective and Murray Boltinoff did a Batman in the Brave and the Bold and apart from the costume they bore very little resemblance to each other. Julie and Murray did not want to coordinate their efforts, nor were they asked to do so. Continuity was not important in those days."

The driving force behind Bruce Wayne's character is his parents' murder and their absence. Bob Kane and Bill Finger discussed Batman's background and decided that "there's nothing more traumatic than having your parents murdered before your eyes". Despite his trauma, he sets his mind on studying to become a scientist and to train his body into physical perfection to fight crime in Gotham City as Batman, an inspired idea from Wayne's insight into the criminal mind. He also speaks over 40 different languages.

Another of Batman's characterizations is that of a vigilante; in order to stop evil that started with the death of his parents, he must sometimes break the law himself. Although manifested differently by being re-told by different artists, it is nevertheless that the details and the prime components of Batman's origin have never varied at all in the comic books, the "reiteration of the basic origin events holds together otherwise divergent expressions". The origin is the source of the character's traits and attributes, which play out in many of the character's adventures.

Batman is often treated as a vigilante by other characters in his stories. Frank Miller views the character as "a dionysian figure, a force for anarchy that imposes an individual order". Dressed as a bat, Batman deliberately cultivates a frightening persona in order to aid him in crime-fighting, a fear that originates from the criminals' own guilty conscience. Miller is often credited with reintroducing anti-heroic traits into Batman's characterization, such as his brooding personality, willingness to use violence and torture, and increasingly alienated behavior. Batman, shortly a year after his debut and the introduction of Robin, was changed in 1940 after DC editor Whitney Ellsworth felt the character would be tainted by his lethal methods and DC established their own ethical code, subsequently he was retconned to have a stringent moral code, which has stayed with the character of Batman ever since. Miller's Batman was closer to the original pre-Robin version, who was willing to kill criminals if necessary.
COMIC MARKET SHARE

DC Comics and its longtime major competitor Marvel Comics together shared approximately 70% of the American comic book market in 2017. With the sales of all books included, DC is the second biggest publisher, after Viz Media, and Marvel is third.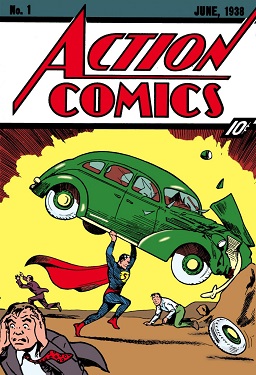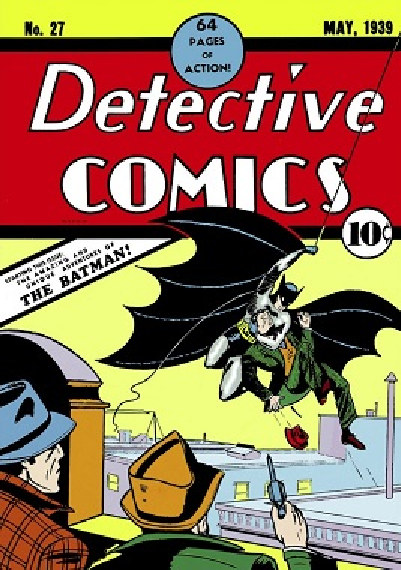 BIRTH OF THE SUPERHERO - Detective Comics, Inc. launched a new anthology title, entitled Action Comics. Issue#1, cover dated in June 1938, first featured characters such as Superman by Siegel and Shuster, Zatara by Fred Guardineer and Tex Thompson by Ken Finch and Bernard Baily. It is considered to be the first comic book to feature the new character archetype, soon known as "superheroes", and was a sales hit bringing to life a new age of comic books with the credit going to the first appearance of Superman both being featured on the cover and within the issue. It is now one of the most expensive and valuable comic book issues of all time. The issue's first featured tale which starred Superman was the first to feature an origin story of superheroes with the reveal of an unnamed planet later known as Krypton that he is said to be from. The issue also contained the first essential supporting character and one of the earliest essential female characters in comics with Lois Lane as Superman's first depicted romantic interest.
BATMAN IS BORN - All-American Publications' first comic series called All-American Comics was first published in April 1939. The series of Detective Comics would make successful history as first featuring Batman by Bob Kane and Bill Finger in issue#27 (March 1939) with the request of more superhero titles. Batman was depicted as a masked vigilante depicted as wearing a suit known as the Batsuit along with riding a car that would later be referred to as the Batmobile. Also within the Batman story was the supporting character, James Gordon, Police commissioner of what later would be Gotham City Police Department.
DC COMIC SUPER HEROES - A TO Z
Aquaman - Arthur Curry
Batman - Bruce Wayne
Superman - Clark Kent
Wonder Woman - Princess Dianna
.....