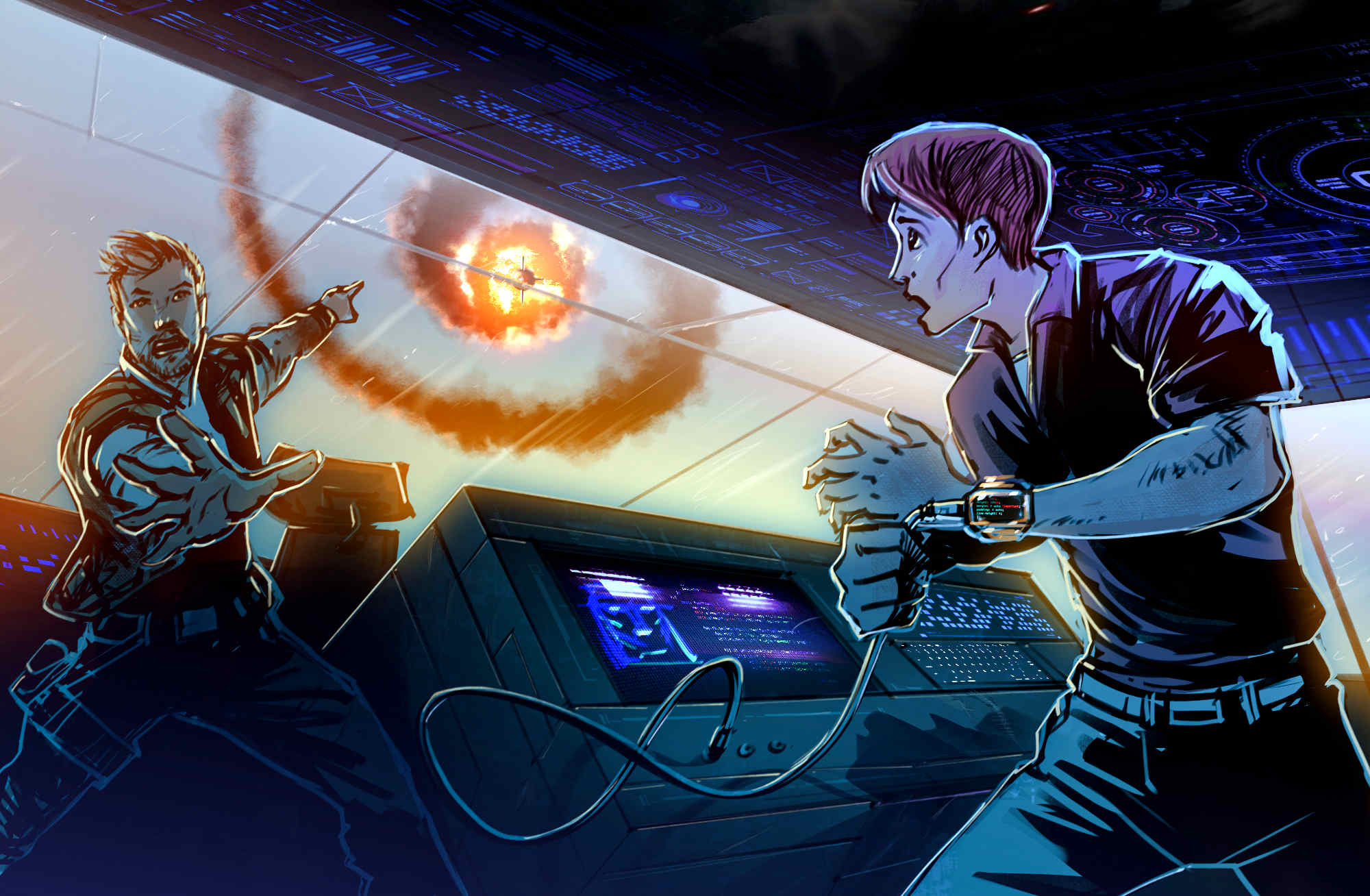 John Storm and Dan Hawk, at the helm of the Elizabeth Swann, discover they have no way to make it in the book or film world without a protracted gestation time, but discover they make excellent comic characters, ideal for publication as graphic novels.



Q11 JOHNNY24 - HOW WILL YOU PLAN AND SCHEDULE TO ACHIEVE PROJECT COMMERCIALISATION? HOW WILL YOU MANAGE THE PROJECT EFFECTIVELY?

Q11. Risks (this question will be scored out of 10)

Explain:

11a - your approach in managing your project effectively

11b - your project plan identifying any links or dependencies between work packages, indicating the lead partner assigned to each and the total cost of each one

11c - your project risks and how you will mitigate them

11A. We consider this project too important to take on significant financial burdens at t his stage - over and above that the directors might personally inject. Risks that can and should be avoided. Having generated the IP, copyrights and trademarks, secured subject website rankings, etc., it might be considered imprudent to put the project in jeopardy, by rushing into a loan situation, that could tip us into insolvency - without first having tested the water. So handing all the hard work input so to date to potential competitors. Indeed, that would be counter productive for the British economy, as it is likely that US comic producers, European or Japanese Manga, might snap the concept up at an undervalue, or free, for the benefit of their exports. For example, turning our British super hero into an American or Japanese hero.
11B. Work packages are agreed between the Lead Partner (B Dusart) and story development (J Hunter), in a relatively flat management structure, where all participants are included in decision making. Our trainee (L Perrin) is assigned research tasks and other areas of administration, not having any creative input, other than opinion as to artwork and script quality and third party opinion as to editing of the latter.
In this case the work packages we are seeking help with, are "Characterisation" and "Script Conversion to Comic dialogue."
These will be shared and assigned to:
1. J Hunter (for head shot pictures) of the character list below - 29 in total. And to edit existing script to suit speech and other commentary for the Cleopatra Comic Script. Total cost not to exceed £00.00 over six months.
2. B Dusart, to approve and confirm acceptance of the developed twenty-nine character arts. Then to approve Comic Script adaptation. The lead applicant, also to keep books relating to overheads and expenditure, and to instruct our Accountant to prepare interim accountancy reports. Total cost not to exceed £00.00 over six months, including accountancy fees limited to the supported period.
3. J King, to review script, and assist 1. & 2. is developing a Comic script. Total cost not to exceed £00.00 over three months.
4. L Perrin (trainee) to assist 1., 2. & 3. above, as part of his work experience.
Overheads directly related and attributable to this accelerated undertaking, including additional studio rental and proportional overheads, limited to £00.00. Total costs: £00.00
11C. We'll never be able to stop our project from changing its cost profile completely. Hence, there needs to be an allowance for change, as in operational flexibility; it's the very nature of business.

We prioritize risks, ranking them according to the likelihood they will happen and how much damage they can cause. The most challenging risk in this team is absenteeism, caused by colds and flu, as hit us over Christmas. We need to allow staff to work flexibly, to make up time that may have been lost in the proposed six month period. To get in front of delays before they start causing trouble. There is always the possibility of incorrect project forecasting, for which we hope to have allowed sufficient, at pain of staff working at a reduced rate for longer.

There is always a cost risk that a project will spend more money than was originally budgeted. It will either lead to an overspend on the project or a reduction in the deliverables as money is pulled from other areas to compensate for increased costs. We have this firmly in mind, conscious of the Terms and Conditions, some of which appear somewhat harsh.


CHARACTERS YET TO BE DEVELOPED AS ARTWORK - PROTAGONISTS

1. Abdullah Amir - Middle eastern marine captain
2. Ahmed Saleh - Port of El Dekheila, Fisherman who finds location Cleopatra's tomb
3. Charley Temple - Adventurous researcher & cameraman
4. Cleopatra, last Pharaoh queen of Egypt reborn - The reincarnated Mummy
5. Dr Roberta (Bobbie) Treadstone - Blue Shield ocean division, Newcastle Uni
6. George Franks - Estate trustee
7. Jack Mason - CIA contact, sometime double agent
8. Jill Bird - BBC news anchor, overseas services
9. Marjorie Boyle - Backpacker/blogger, Trinidad
10. Professor Douglas Storm - Genius & great uncle to John Storm
11. Professor Jacques Pierre Daccord - UNESCO, subsea archaeology division
12. Sam Hollis - Reporter, Trinidad Bugle
13. Steve Green (Greeno) - Freelance investigative bloodhound
14. US President Lincoln George Truman - Supreme commander US military
15. William Bates (Billy the Kid) - Californian computer genius
CHARACTERS YET TO BE DEVELOPED AS ARTWORK - ANTAGONISTS

16. Alexis Luther - Panama - The Panamanian running man, a replicant
17. Baron Heinrich Richthofen - Obsessed 4th Reich, Neo Nazi occultist
18. Franco Francisco - Italian scientist, cloning expert
19. General Sir Rodney Dunbar - Head of MI6 human enhancement
20. Harold (Dirty Harry) Holland - Chief Constable, Scotland Yard
21. Husani Hassan - President elect of Egypt
22. Klaus von Kolreuter - Swiss scientist, human genome expert
23. Musa Bomani - Hired Egyptian tomb raider -
24. Nicholas (Nick- The Devil) Johnson MP - UK Minister for Defence
25. Roberto Ferrara - Italian spy Vatican & Interpol, double agent
26. Rudolf Kessler - Nazi Egyptologist/archaeologist
27. Safiya Sabuka - Isis worshiper, descendant of Cleopatra
28. Sergeant Shaun Flanagan Police officer, Scotland Yard
29. William Bates (Billy the Kid)
CREATIVE CATALYSTS 2023 - 'JOHNNY24' - APPLICATION NO: 10068222
DCMS £30,000 GROWTH INNOVATE UK
DCMS £50,000 CATALYST INNOVATE UK
SUBSIDY BASIS - EU & IRELAND: DECLARATION
PROJECT SUMMARY - BRIEF DESCRIPTION (PITCH)
PUBLIC DESCRIPTION - MORE DETAILED OUTLINE
APPLICATION (HOW TO APPLY) QUESTIONS
Q1 APPLICANT'S LOCATION (Nil score) JAMESON HUNTER LTD SE
Q2 FINANCIAL ASSISTANCE (AWARDS) TO DATE (Nil score)
Q3 PROJECT SECTORS SCOPE ALIGNMENT - PUBLISHING & FILM (Nil score)
Q4 VIDEO DEMONSTRATION (Nil score)
Q5 IDENTIFIED PROBLEM (20 points)
Q6 APPROACH: PROPOSED SOLUTION (20 points)
Q7 PROJECT TEAM & RESOURCES (10 points) JUNE-SEPTEMBER
Q8 WHO ARE YOUR COMPETITORS (10 points)
Q9 ADDED VALUE (10 points)
Q10 PROJECT COSTS (10 points) - 3 YEAR PROJECTION EXAMPLE
Q11 RISKS (10 points)
Q12 VISION & AMBITION (10 points)
FINANCES
PROJECT SPEND PROFILE
TERMS & CONDITIONS - CAUTION ADVISED
APPLICATION AWAITING ASSESSMENT - FILED 15/O2/2023
EXPLOITATION PLAN
Great original stories, in need of character development for graphic novels.