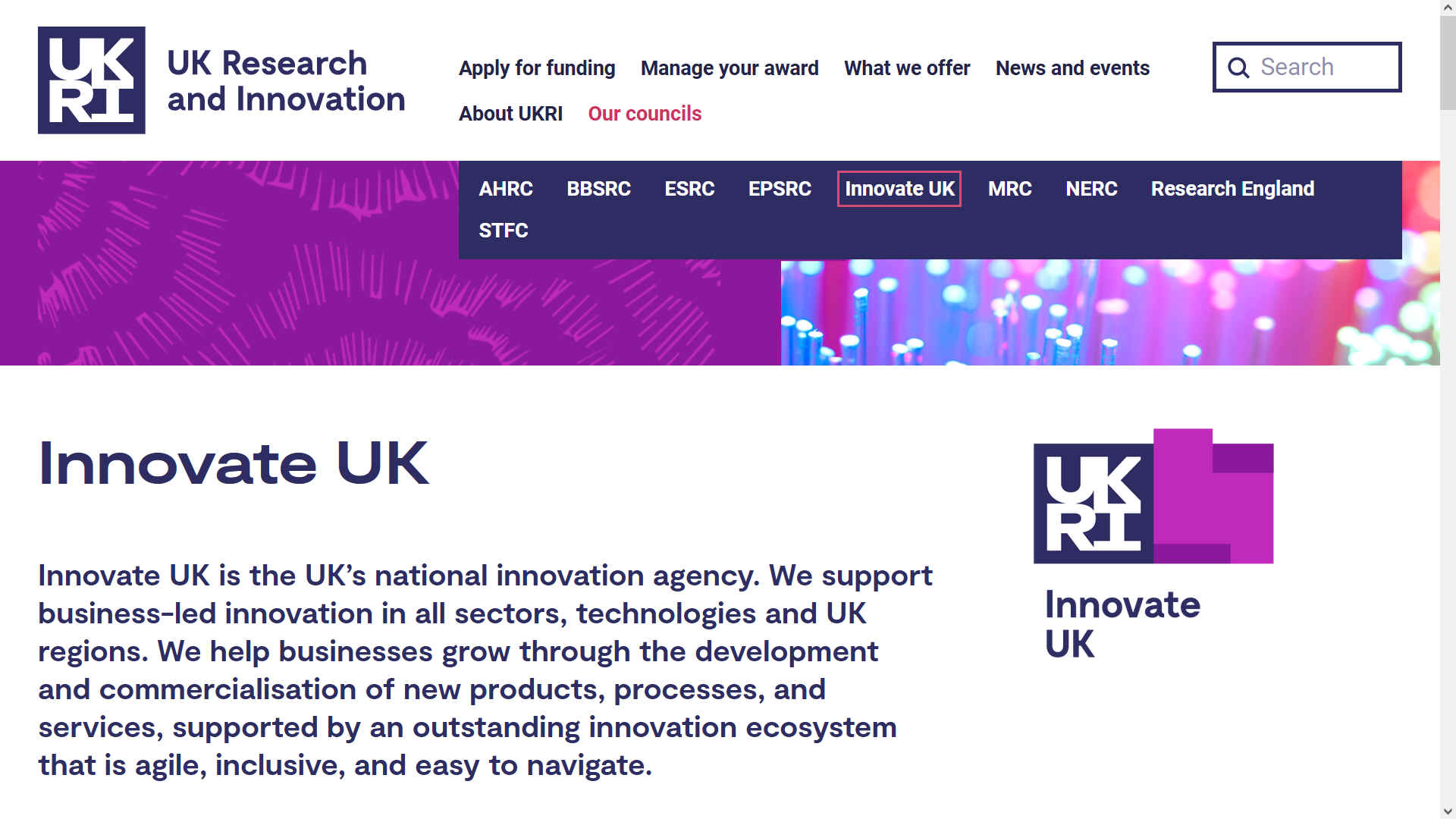 Innovate UK is the UK's national innovation agency. They aim to support business-led innovation in all sectors, technologies and UK regions. Their job is to help businesses grow through the development and commercialisation of new products, processes, and services, via innovation.
The UK economy is relatively stagnant, with regulations stacked to the ceiling, lack of suitable premises, and red tape by the mile. All of which is a blocker to entrepreneurs trying to find a way to make a decent living, in a maze of civil service dead ends and unfriendly councils, making the UK a veritable mine field for the unwary.
Yet the Government of the day need businesses to be able to reap taxes from them, to support the Heads of State, defence budgets, healthcare, and provide the infrastructure for a sustainable future.
Against this background, and a fall in the number of entrepreneurs entering the system, the British Government has been forced to try and cajole those with ideas to step up to the lectern. They need to hook budding business people, who might otherwise not engage. Due to the obstacles to innovation that other National and Local Government departments seem to enjoy placing in the way of non-conformists. For, typically, those are the ones prepared to buck the system. If it was otherwise, there would be millions more ordinary people giving it a go. But as is clear, most, are content to work for someone else 9-5. For an easy life. And who can blame them.
Most especially we need climate and energy innovation. We need IP exports. We need to create jobs in other areas, where manufacturing is no longer a British thing. More, we are a nation of banks, peddling bogus currency, based on Promissory Notes that are unsupported at Treasury Level, or by the Bank of England. There are no gold reserves to cover our international loans (National Debt). Presently some £2.4 trillion pounds of overspend. Telling, that present restrictive policies are not working, nor is the banking finance system, that overly rewards unearned incomes.
We live in a fast food, disposable society, where everyone is looking out for a quick buck, without having to work for it. Such as bitcoin, and share trading schemes. What Parliament and the House of Lords seem to have forgotten, is that you cannot create something from nothing. The basis of a solid society, is a firm foundation based on the right of every person to enjoy a reasonable standard of living, in return for an honest day's work. Not, a nation of financial slaves, toiling away for their Landowners overlords. A leftover from the days of slave trading, upon which the British Empire and Colonies were founded.

Innovate UK's action plan sets out how they might achieve business growth by focusing their activities in five strategic theme areas:

- future economy
- growth at scale
- global opportunities
- innovation ecosystem
- government levers

Their action plan also outlines the allegedly strong foundations that underpin the support they give for innovation:

- UK science and research
- design
- responsible innovation
- innovation talent and skills
- equality, diversity and inclusion
- place and levelling up
OFFICE ADDRESSES - NO PHONES OR EMAILS PROVIDED
Innovate UK
Polaris House,
North Star Avenue,
Swindon, SN2 1FL

UK Research and Innovation
Caxton House
Tothill Street
London, SW1H 9NA

Research England
Westward House
Lime Kiln Close
Stoke Gifford
Bristol, BS34 8SR
CREATIVE CATALYSTS 2023 - 'JOHNNY24' - APPLICATION NO: 10068222
DCMS £30,000 GROWTH INNOVATE UK
DCMS £50,000 CATALYST INNOVATE UK
SUBSIDY BASIS - EU & IRELAND: DECLARATION
PROJECT SUMMARY - BRIEF DESCRIPTION (PITCH)
PUBLIC DESCRIPTION - MORE DETAILED OUTLINE
APPLICATION (HOW TO APPLY) QUESTIONS
Q1 APPLICANT'S LOCATION (Nil score) JAMESON HUNTER LTD SE
Q2 FINANCIAL ASSISTANCE (AWARDS) TO DATE (Nil score)
Q3 PROJECT SECTORS SCOPE ALIGNMENT - PUBLISHING & FILM (Nil score)
Q4 VIDEO DEMONSTRATION (Nil score)
Q5 IDENTIFIED PROBLEM (20 points)
Q6 APPROACH: PROPOSED SOLUTION (20 points)
Q7 PROJECT TEAM & RESOURCES (10 points) JUNE-SEPTEMBER
Q8 WHO ARE YOUR COMPETITORS (10 points)
Q9 ADDED VALUE (10 points)
Q10 PROJECT COSTS (10 points) - 3 YEAR PROJECTION EXAMPLE
Q11 RISKS (10 points)
Q12 VISION & AMBITION (10 points)
FINANCES
PROJECT SPEND PROFILE
TERMS & CONDITIONS - CAUTION ADVISED
APPLICATION AWAITING ASSESSMENT - FILED 15/O2/2023
EXPLOITATION PLAN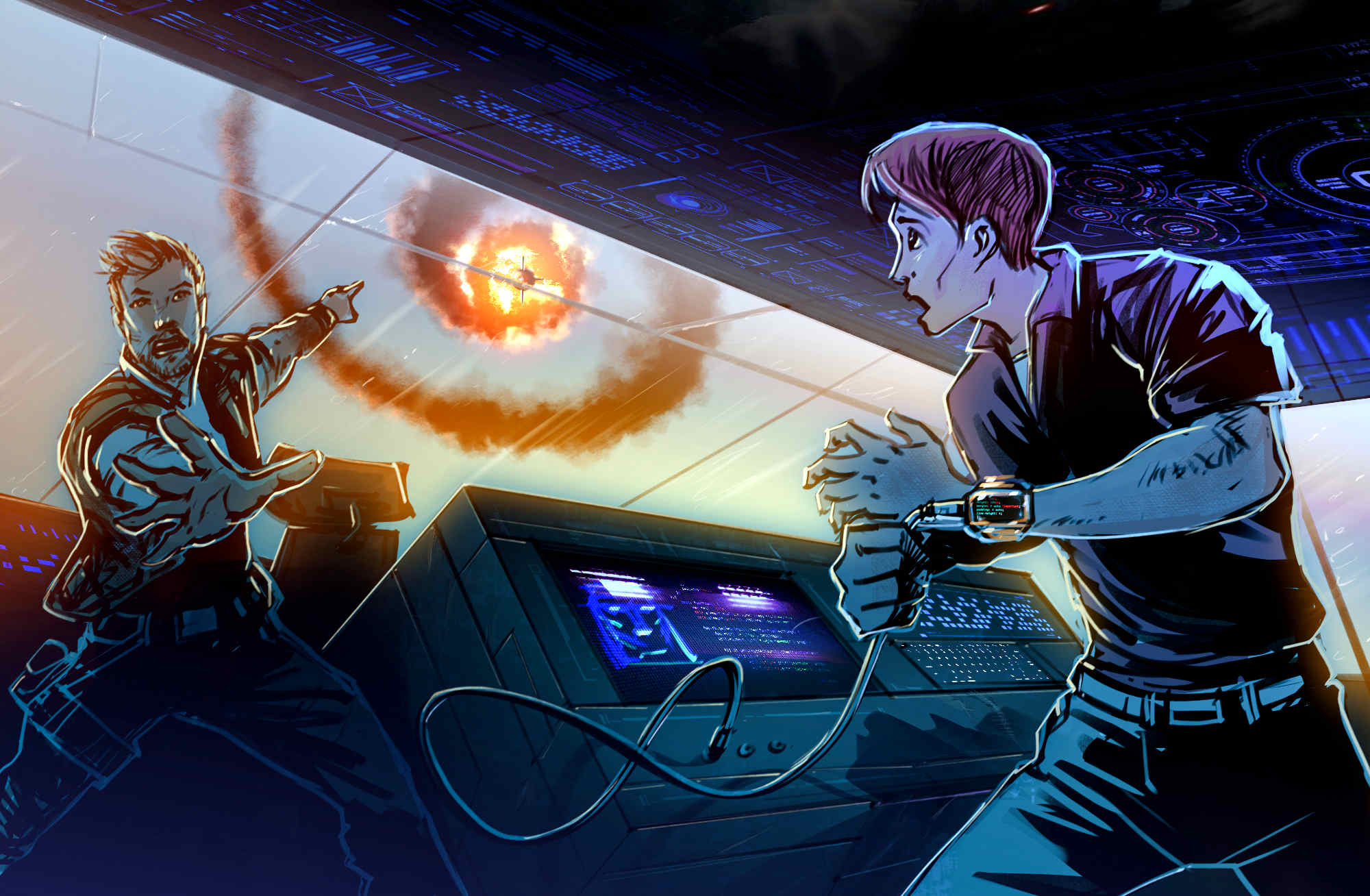 John Storm and Dan Hawk, at the helm of the Elizabeth Swann. No time to lose.
Great original stories, in need of character development for graphic novels.