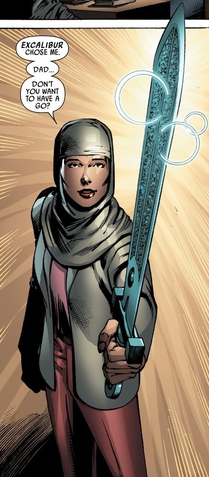 Dr. Faiza Hussain wields the legendary sword of Arthur to become Excalibur vs vampires. Marvel Studios are killing it with representation going forward, as Muslim heroine Ms. Marvel recently appeared in her own show on Disney+. Another character that they could use down the line is Dr. Faiza Hussain, an English healer who wielded the legendary sword Excalibur after pulling it from the stone.

During Secret Invasion, Faiza was working in London as a doctor to help people during the conflict. Dane Whitman/Black Knight helped her amidst an attack from the Skrull. She not only wields the powerful sword Excalibur, but also has healing powers that have helped her teammates on MI-13.
Dr. Faiza Hussain is a superheroine appearing in American comic books published by Marvel Comics. Created by writer Paul Cornell and artist Leonard Kirk, the character first appeared in Captain Britain and MI: 13 #1 (May 2008). Faiza Hussain uses the codename Excalibur. She is used as the title's "point of view character."

FICTIONAL CHARACTER BIOGRAPHY

Faiza Hussain is the only daughter of a family of Pakistani heritage who live in Chelmsford in Essex. A London-based Muslim medical doctor, and British superhero fangirl, Faiza initially gets caught up in the Skrull's invasion as she is performing battlefield triage while the Skrull attack is going on around her. While tending to the wounded, alongside the Black Knight, Faiza Hussain is struck by a Skrull laser weapon, this weapon seemingly gives Faiza powers which she uses to help Black Knight fend off more Skrulls.

After the defeat of the Skrulls, Faiza Hussain became the wielder of Excalibur, and joined MI:13 as Black Knight's steward. When Dracula attacked the United Kingdom he personally attacked Faiza's family, injuring her mother while kidnapping her father and sending forces to attack the members of MI:13. In the aftermath of the attack, Pete Wisdom deduced that attack's aim was to keep Faiza (and Excalibur) out of the battle. He gives Faiza the codename "Excalibur" because he wants Dracula and his forces to hear and know that the mythical blade is still an active part of MI:13.

During the Secret Empire storyline, Faiza appears as a member of the Champions of Europe alongside Ares, Captain Britain, Guillotine, Outlaw, and Peregrine. Alongside Squirrel Girl and Enigma, the Champions free Paris, France from a Hydra invasion force.
COMIC BRITISH SUPER HEROES - A TO Z

Black Knight, Dane Whitman (British, American, Ebony Blade Cursed Sword Strong, Marvel)
Blade, Eric Brooks (Vampire Hunter Born Soho, London MI-13* [Wesley Snipes] British SuperHero, Marvel)
Captain Avalon, Brian Braddock (Protects mystical Omniverse, Britain Corps, Excalibur, Marvel)
Captain Midlands, 'Rambling' Sid Ridley (British Army Super Soldier Program MI-13*)
Dark Angel, Shevaun Haldane (Psylocke, British Superhero Darkmoor, England, Marvel Comics)
Dr Druid, Anthony Ludgate (Raised England, studied magic Harvard Medical Degree, British Superhero)
Dr. Faiza Hussain (England, London - Sword Of Arthur Excalibur Stone [Marvel Disney])
Elsa Bloodstone, Monster Hunter (Marvel Comics)
Elizabeth 'Betsy' Braddock (Super heroine Captain Britain, mutant Psylocke Amulet of Right Excalibur Knights)
John Storm - Storm Force, ex army captain, soldier turned mercenary with cybernetic arm 1987 Eagle comics
Ka-Zar, Lord Kevin Plunder (British Royal Heritage England [Tarzan] Raised By Mutant Sabretooth Tiger Zabu)
Motormouth and Killpower Harley Davis & Julius Mullarkey, Marvel UK Stories British Super Heroes Mys-Tech Organization
Pete Wisdom (British Secret Agent Mutant Mi-13* Excalibur X-Force S.T.R.I.K.E.)
Spider-Woman, Jessica Drew (London, England - Avengers Hydra S.H.I.E.LD British Superhero, Marvel)
Spitfire, Lady Jacqueline Falsworth Crichton (Vampiric Speedster Marvel Comics, Immortal MI-13*)
Union Jack, Joseph 'Joey' Chapman (Patriotic Legacy Hero World War One [Liverpool, England] Marvel)
* Military Intelligence, Section 13 (MI-13), is the United Kingdom's (fictional) agency set up to deal with paranormal occurrences and is part of its intelligence machinery alongside MI5, MI6, GCHQ, and DI. MI13 is directed by the JIC (Joint Intelligence Committee). The service is directed to protect Britain from mystical, extra-terrestrial and superhuman threats.
MARVEL COMICS US SUPERHEROES - A TO Z
Hulk,
Thor, and
Wolverine,
HISTORICAL LEGENDS

Saint George is based on a soldier in the Roman army who was martyred in 303 CE (Patron saint of knights)
Sir Galahad - Knight of the Round Table 12-15th century CE literature (King Arthur legend)
Siegfried - Brunhilde & King Gunter (Kriemhild, Burgundian [Nibelung] princess) c. 1200 CE


RECORDED HISTORICAL KNIGHTS

Robert Guiscard - 'The Crafty' (c. 1015-1085 CE) [Norman]
Rodrigo Díaz de Vivar - 'El Cid' (1043-1099 CE)
Godfrey of Bouillon (circa 1060-1100)
Sir William Marshal - 'The Greatest Knight that Ever Lived' (c. 1146-1219 CE)
Richard I - 'The Lionhearted' (1157-1199 CE) King of England from 1189 to 1199 CE
Sir William Wallace (c. 1270-1305 CE)
Sir James Douglas - 'The Black Douglas' (c. 1286-1330 CE)
Bertrand du Guesclin - 'The Eagle of Brittany' (c. 1320-1380 CE)
Edward of Woodstock - 'The Black Prince [of Wales]' (1330-1376 CE)
Sir Henry Percy - 'Hotspur' (1364-1403 CE)
John Storm is a hybrid character. A new breed of modern Knight, fighting to protect the natural world and the archaeology that defines man's development, from Tanzania, to the Moon and beyond. Storm's ace in the hole is the Elizabeth Swann, the onboard AI, Hal, and his enhanced performance via a brain implant and genetic modification. Thus, just about keeping pace with what the market expects in a modern world: A technological super secret agent. In this case, for Blue Shield & UNESCO.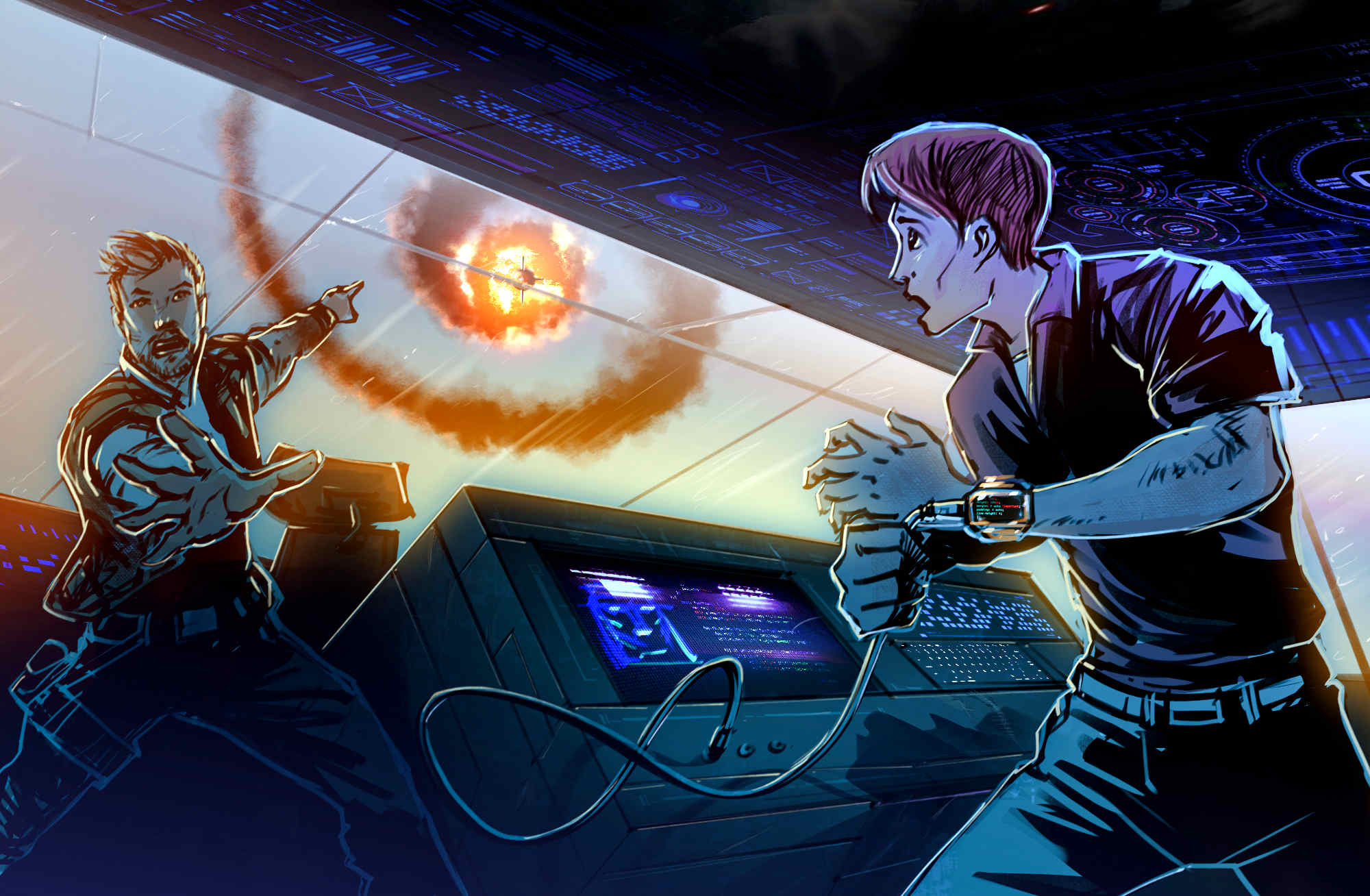 John Storm is a new breed of British super hero, a modern Knight. Seen here with Dan Hawk, at the helm of the Elizabeth Swann. The formidable high tech duo discover they have no way to make it in the book or film world, but discover that they make excellent comic characters, ideal for publication as graphic novels. George Franks, mentor, is held to be a descendant of King Arthur, a knight of the fabled Round Table. The Swann's onboard weapons early warning and targeting system is called: Merlin. The laser cannon: Excalibur. And the tazer anti-piracy boarding system: Pendragon.