Captain Midlands got his powers from the British Super Soldier Program. There's Captain Britain, Red Guardian, Captain America, Union Jack, Captain Canuck (not Marvel), US Agent, the Patriot and so many other heroes that are proud of their country. However, Captain Midlands is one of the more obscure and hilarious ones of the bunch. Sid Ridley didn't get his powers through Merlin like Captain Britain, but through the British Super Soldier program.

Much like many others in the British roster, Ridley ended up working with MI-13, but he was more of a background character than the others. He fought fairies in Hillfort and even killed an extra-dimensional Jack the Ripper. British Marvel gets weird and wacky, which is exactly why it needs to be adapted.
'Rambling' Sid Ridley, as Captain Midlands, is the English equivalent of Captain America. Under the Super Soldier program of the early 1940s his strength, stamina and agility was increased to the peak of human fitness. This allowed him to fight as a British super soldier during WW2. Unlike Captain America, Captain Midlands was not frozen or preserved in time and therefore has aged accordingly. Somewhere in his 80s he still posses his superhuman abilities but has the aged body of a pensioner.

The history of his life is largely unknown but he was married to a woman named Nancy who died in 1963. This was Captain Midlands' greatest loss and when offered his hearts desire by the Duke of Hell known as Plokta his wish was to live happily with her.
Sid Ridley, is a fictional character appearing in American comic books published by Marvel Comics. Captain Midlands was created by writer Paul Cornell and first penciled by Trevor Hairsine and first appeared in Wisdom #1 (January 2007).

As part of the 1940s British Super-Soldier program, Sid Ridley is transformed into a "perfect" specimen of human development and conditioning then sent off to be part of the British Army's war effort.

After serving as Captain Midlands in World War II, Ridley somehow ended up in British Intelligence and eventually MI-13. Ridley also suggested that he had "knocked a girl up" (got her pregnant) and married her before she died in 1963.

Captain Midlands served alongside other British heroes, including Captain Britain and Pete Wisdom in MI-13, fighting supernatural threats such as fairies, Y Ddraig Goch, alternate reality Jack the Rippers and Martians. He was also reported to be fighting the Skrull invasion of Britain.

When MI:13 refocused itself against a supernatural pandemic, Captain Midlands - while carrying out routine crimefighting - identified a demonic incursion in Birmingham and called it in to the agency. He was captured and imprisoned in a council estate basement, being tempted to give his soul for an unknown desire. He was freed by and joined Pete Wisdom's strike team. However, this was a ploy by Captain Midlands to lead the group into a trap so he could get his heart's desire, to spend eternity with his dead wife.

Wisdom, disgusted with Sid's treachery, deliberately destroyed the illusion of Sid's dead wife. After the team escaped, he was arrested in view of the public and imprisoned in The Vault, a high security prison in Shoreditch. In an act of mercy, Wisdom gave Sid the chance to kill himself and avoid humiliation in a trial - although it was left ambiguous as to which option Ridley took.

ABILITIES & EQUIPMENT

Captain Midlands has no superhuman powers, although as a result of the 1940s British Super-Soldier program Sid Ridley was transformed into a "perfect" specimen of human development and conditioning. Captain Midlands' strength, speed, stamina, reflexes, agility, dexterity, coordination, balance, and endurance are at the highest limits of natural human potential, and despite being an eighty-year-old man he still has a body of a superhero.

Captain Midlands wears full DPM military fatigues and helmet with a cowl mask (similar to the World War II Ultimate Captain America outfit) and wields a golden circular shield in the design of the traditional lion symbol of Britain and coated in an anti-magic nanominium gloss.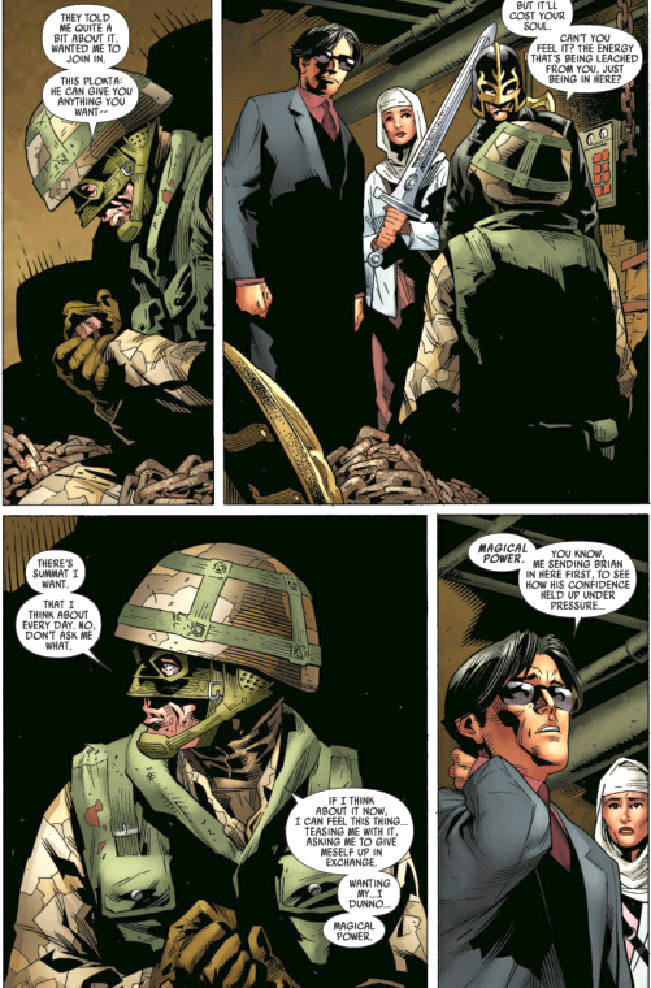 COMIC BRITISH SUPER HEROES - A TO Z

Black Knight, Dane Whitman (British, American, Ebony Blade Cursed Sword Strong, Marvel)
Blade, Eric Brooks (Vampire Hunter Born Soho, London MI-13* [Wesley Snipes] British SuperHero, Marvel)
Captain Avalon, Brian Braddock (Protects mystical Omniverse, Britain Corps, Excalibur, Marvel)
Captain Midlands, 'Rambling' Sid Ridley (British Army Super Soldier Program MI-13*)
Dark Angel, Shevaun Haldane (Psylocke, British Superhero Darkmoor, England, Marvel Comics)
Dr Druid, Anthony Ludgate (Raised England, studied magic Harvard Medical Degree, British Superhero)
Dr. Faiza Hussain (England, London - Sword Of Arthur Excalibur Stone [Marvel Disney])
Elsa Bloodstone, Monster Hunter (Marvel Comics)
Elizabeth 'Betsy' Braddock (Super heroine Captain Britain, mutant Psylocke Amulet of Right Excalibur Knights)
John Storm - Storm Force, ex army captain, soldier turned mercenary with cybernetic arm 1987 Eagle comics
Ka-Zar, Lord Kevin Plunder (British Royal Heritage England [Tarzan] Raised By Mutant Sabretooth Tiger Zabu)
Motormouth and Killpower Harley Davis & Julius Mullarkey, Marvel UK Stories British Super Heroes Mys-Tech Organization
Pete Wisdom (British Secret Agent Mutant Mi-13* Excalibur X-Force S.T.R.I.K.E.)
Spider-Woman, Jessica Drew (London, England - Avengers Hydra S.H.I.E.LD British Superhero, Marvel)
Spitfire, Lady Jacqueline Falsworth Crichton (Vampiric Speedster Marvel Comics, Immortal MI-13*)
Union Jack, Joseph 'Joey' Chapman (Patriotic Legacy Hero World War One [Liverpool, England] Marvel)
* Military Intelligence, Section 13 (MI-13), is the United Kingdom's (fictional) agency set up to deal with paranormal occurrences and is part of its intelligence machinery alongside MI5, MI6, GCHQ, and DI. MI13 is directed by the JIC (Joint Intelligence Committee). The service is directed to protect Britain from mystical, extra-terrestrial and superhuman threats.
MARVEL COMICS US SUPERHEROES - A TO Z
Hulk,
Thor, and
Wolverine,
HISTORICAL LEGENDS

Saint George is based on a soldier in the Roman army who was martyred in 303 CE (Patron saint of knights)
Sir Galahad - Knight of the Round Table 12-15th century CE literature (King Arthur legend)
Siegfried - Brunhilde & King Gunter (Kriemhild, Burgundian [Nibelung] princess) c. 1200 CE

RECORDED HISTORICAL KNIGHTS

Robert Guiscard - 'The Crafty' (c. 1015-1085 CE) [Norman]
Rodrigo Díaz de Vivar - 'El Cid' (1043-1099 CE)
Godfrey of Bouillon (circa 1060-1100)
Sir William Marshal - 'The Greatest Knight that Ever Lived' (c. 1146-1219 CE)
Richard I - 'The Lionhearted' (1157-1199 CE) King of England from 1189 to 1199 CE
Sir William Wallace (c. 1270-1305 CE)
Sir James Douglas - 'The Black Douglas' (c. 1286-1330 CE)
Bertrand du Guesclin - 'The Eagle of Brittany' (c. 1320-1380 CE)
Edward of Woodstock - 'The Black Prince [of Wales]' (1330-1376 CE)
Sir Henry Percy - 'Hotspur' (1364-1403 CE)
John Storm is a hybrid character. A new breed of modern Knight, fighting to protect the natural world and the archaeology that defines man's development, from Tanzania, to the Moon and beyond. Storm's ace in the hole is the Elizabeth Swann, the onboard AI, Hal, and his enhanced performance via a brain implant and genetic modification. Thus, just about keeping pace with what the market expects in a modern world: A technological super secret agent. In this case, for Blue Shield & UNESCO.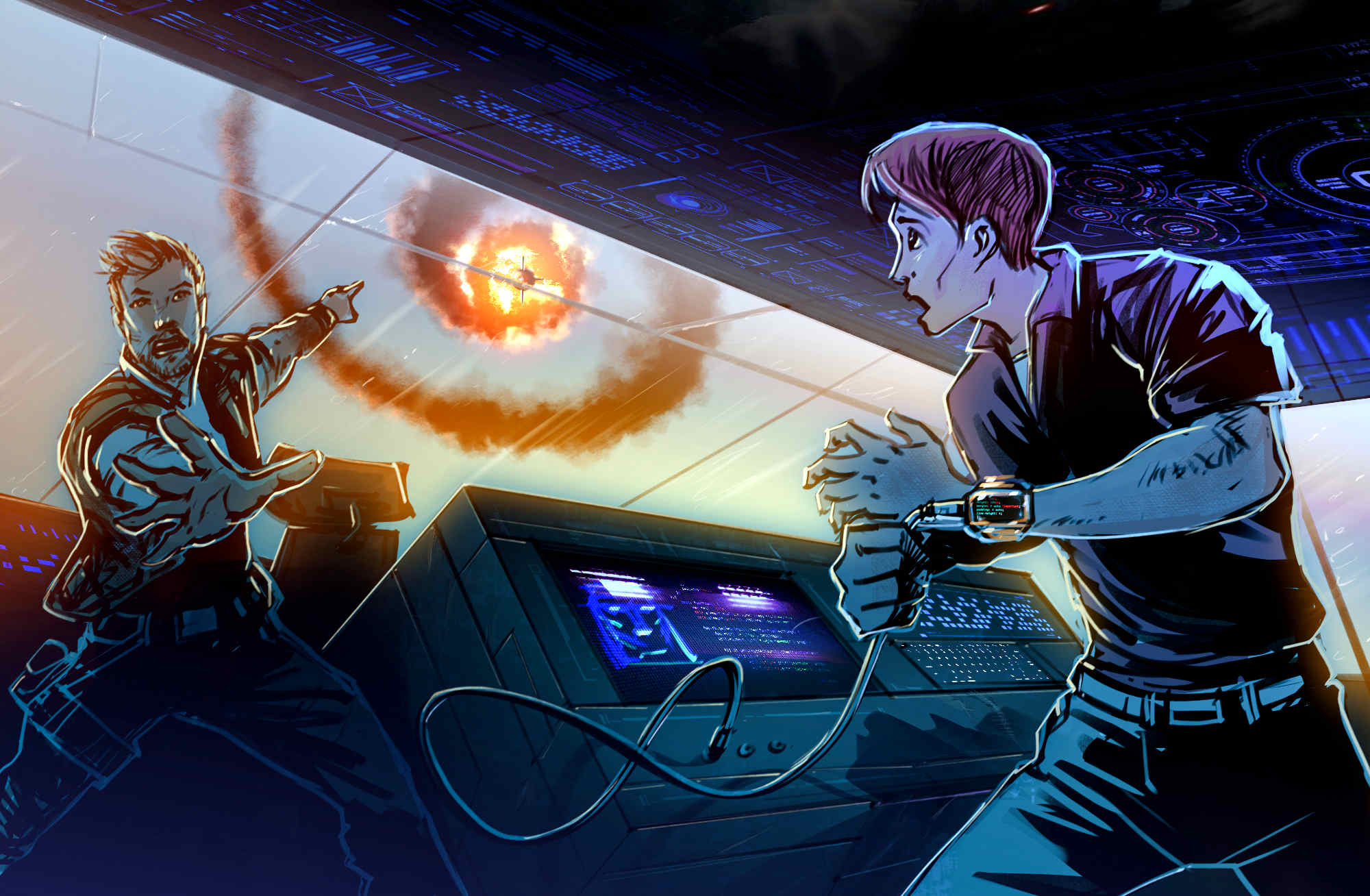 John Storm is a new breed of British super hero, a modern Knight. Seen here with Dan Hawk, at the helm of the Elizabeth Swann. The formidable high tech duo discover they have no way to make it in the book or film world, but discover that they make excellent comic characters, ideal for publication as graphic novels. George Franks, mentor, is held to be a descendant of King Arthur, a knight of the fabled Round Table. The Swann's onboard weapons early warning and targeting system is called: Merlin. The laser cannon: Excalibur. And the tazer anti-piracy boarding system: Pendragon.