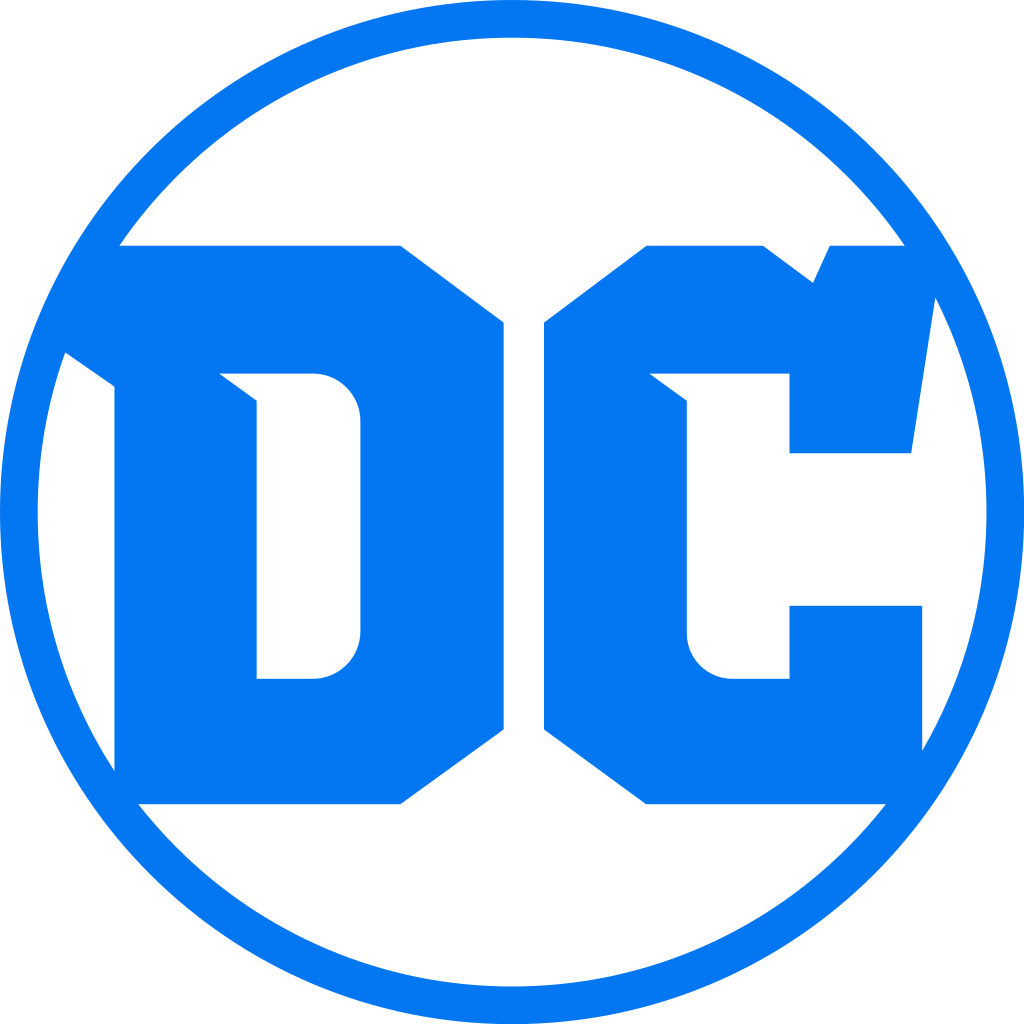 Two of the mainstream comic companies include DC and Marvel Comics, together taking some 72% of the sales of superhero graphic novels. With well known (household names) characters that mostly have unreal abilities, unlike, the medieval knight of old, equipped only with a horse suit of armour and a sword. The obvious place from where Iron Man developed. By comparison, John Storm, and his steed, the Elizabeth Swann, are entirely possible, taking known technology to the limit. There are no super powers. Just enhancements, based on computers and genetic modifications. If for no other reason, readers might like a change from flying people, and space adventures, to something a little more down to earth, and yet still mentally stimulating.

Aquaman is one of the current projects of the DC universe, somewhat tarnished at the moment by the Court Case between Johnny Depp and Amber Heard. Whereas, Jason Momoa is a real find.
Arthur Curry, also known by his superhero moniker Aquaman, is a fictional character in the DC Extended Universe based on the DC Comics superhero of the same name. He is portrayed by American actor Jason Momoa. Originally appearing as a cameo in Batman v Superman: Dawn of Justice, Curry had a prominent role in the film Justice League and its director's cut, and is later the subject of his own film Aquaman. Momoa also appeared in the first season finale of the HBO Max series Peacemaker. The DCEU marks Aquaman's first portrayal in cinema, with his character having been re-imagined as compared to his comics counterpart.
2018 FILM
Aquaman is a 2018 American superhero film based on the DC character of the same name. Produced by DC Entertainment and Peter Safran Productions, and distributed by Warner Bros. Pictures, it is the sixth film in the DC Extended Universe (DCEU). The film is directed by James Wan, from a screenplay by David Leslie Johnson-McGoldrick and Will Beall. It stars Jason Momoa as Arthur Curry / Aquaman, who sets out to lead the underwater kingdom of Atlantis and stop his half-brother, King Orm, from uniting the seven underwater kingdoms to destroy the surface world. Amber Heard, Willem Dafoe, Patrick Wilson, Dolph Lundgren, Yahya Abdul-Mateen II, and Nicole Kidman appear in supporting roles.

Development began in 2004 but did not gain traction until Man of Steel was released in 2013. In August 2014, Beall and Kurt Johnstad were hired to write competing scripts. Wan signed on as director in April 2015, and in July 2016, the film moved forward with Beall's screenplay. The main cast was confirmed through 2016 and early 2017. Principal photography began in Australia in May 2017, taking place at Village Roadshow Studios on the Gold Coast, Queensland, Australia, with additional production teams in Canada, Italy and Morocco. Filming concluded the following October. Several vendors provided visual effects, ranging from high-detail hair simulations to the creation of CGI animals and locations.

Aquaman premiered in London on November 26, 2018, and was released in the United States on December 21. It grossed $1.148 billion worldwide, making it the highest-grossing DCEU film, the highest-grossing film based on a DC Comics character, and the fifth-highest-grossing film of 2018. The film received praise for its visual effects, production design, action sequences, and Momoa's performance, while being criticized for its script, dialogue, and story. An animated miniseries set after the film, Aquaman: King of Atlantis, aired from October 14 to October 28, 2021, while a live-action sequel film, Aquaman and the Lost Kingdom, is set to be released on December 25, 2023.

PLOT

In 1985 Maine, lighthouse keeper Thomas Curry rescues Atlanna, the queen of the underwater kingdom of Atlantis, during a storm. They fall in love and have a son named Arthur, who has the power to communicate with sea creatures. When Atlantean soldiers sent by King Orvax (the ruler of Atlantis) arrive to retrieve Atlanna, who fled her arranged marriage in Atlantis, she defeats them but is forced to leave her family to protect them from her people. She promises to return when safe to do so and goes back to Atlantis, entrusting her advisor, Nuidis Vulko, to train Arthur. Becoming a skilled warrior, Arthur rejects Atlantis upon learning that Atlanna was executed by Orvax for loving a human and having a half-breed son.

In the present, Arthur has become known as the metahuman dubbed as the "Aquaman" by the public. One year after Steppenwolf's defeat,[a] Arthur confronts pirates hijacking a Russian Akula-class submarine. Their leader is killed in a failed attempt to kill Arthur, and the leader's son David vows revenge. The present king Orm Marius, Orvax's son (who is now Atlantis's new ruler after his father died) and Arthur's younger half-brother, convinces King Nereus of Xebel to help unite Atlantis and destroy the surface world for polluting the oceans. If Orm unites all four kingdoms, he will receive the title of Ocean Master, commander of the most powerful force on the planet. Nereus agrees to help after they are attacked by the hijacked submarine.

Nereus' daughter Mera, betrothed to Orm, refuses to aid them and requests Arthur's help. Although refusing at first, after Orm sends a tidal wave that nearly kills his father Arthur accompanies her back to Atlantis, where Vulko urges him to find the Trident of Atlan, a magic artifact of Atlantis' first ruler, to reclaim his rightful place as king. They are ambushed by Orm's men, and Arthur is captured. Orm blames him for Atlanna's death and nearly kills him in a duel before Mera rescues him. Arthur and Mera journey to the fallen Kingdom of the Deserters hidden under the Sahara desert, where the trident was forged, and unlock a holographic message that leads them to Sicily, Italy, where they retrieve the trident's coordinates.

Orm gives David a prototype Atlantean battle suit to kill Arthur, imprisons Vulko, and coerces the Kingdom of the Fishermen to pledge their allegiance to him by killing their king and forcing the queen and princess to accept. It is also revealed that Orm hired David and his father to hijack the Russian submarine (which is the same one that attacked Atlantis earlier) to win Nereus's support. An armored David rechristens himself as Black Manta and injures Arthur, but Arthur manages to defeat David. At their destination, Arthur and Mera fend off amphibious monsters of the Trench, and a wormhole transports them to an uncharted sea at the center of the Earth. They are reunited with Atlanna, who was sacrificed to the Trench for Arthur's illegitimate birth 20 years ago, but had survived and escaped to the uncharted sea, alive and well.

Arthur faces the Karathen, a mythical leviathan and keeper of the trident, and voices his determination to protect both Atlantis and the surface, reclaiming the trident, which grants him control over the seven seas. Orm leads his army against the Kingdom of the Brine to declare himself Ocean Master, while Arthur, with Mera, Karathen, and the Trench, lead an army of marine creatures against him. Orm's followers embrace Arthur as the true king upon learning that he wields Atlan's trident. Arthur defeats Orm but spares his life, and Orm accepts his imprisonment after discovering that Arthur rescued their mother. Atlanna reunites with Thomas as promised, while Arthur ascends to the throne.

In a mid-credits scene, David is rescued by Dr. Stephen Shin, a marine scientist and conspiracy theorist obsessed with Atlantis, and agrees to lead Shin there in exchange for help in his revenge on Arthur.

BOX OFFICE AND CRITICS

Aquaman grossed $335.1 million in the United States and Canada and $812.6 million in other territories, for a total worldwide gross of $1.148 billion. It became the highest-grossing installment in the DCEU and the highest-grossing film based on any DC character as well as Warner Bros.' second-highest-grossing film worldwide behind Harry Potter and the Deathly Hallows – Part 2 ($1.342 billion). Deadline Hollywood calculated the net profit of the film to be $260.5 million when factoring together all expenses and revenues, making it the fifth-most-profitable release of 2018.

Review aggregator website Rotten Tomatoes reports that 65% of 411 critics gave the film a positive review, with an average rating of 6/10. The website's critical consensus reads: "Aquaman swims with its entertainingly ludicrous tide, offering up CGI superhero spectacle that delivers energetic action with an emphasis on good old-fashioned fun." Metacritic surveyed 50 critics and assigned a weighted average score of 55 out of 100, indicating "mixed or average reviews". Audiences polled by CinemaScore gave the film an average grade of "A−" on an A+ to F scale.

Peter Debruge of Variety criticized the dialogue but praised the production design, action scenes and the final act, writing, "The biggest surprise here is how, after the running time of a standard-length film has elapsed, Aquaman suddenly kicks the movie up a level for the finale. At just the moment this critic's eyes tend to glaze over in superhero movies—typically, as the villain goes nuclear and a portal to another dimension opens, threatening to destroy the planet—Wan unleashes a massive deep-sea battle on par with The Lord of the Rings." Germain Lussier of io9 wrote "Aquaman is all about spectacle. It's filled with ambition. It's always about trying to put the coolest, most imaginative sequence on screen at every single turn of the story, no matter what the cost." Writing for TheWrap, William Bibbiani called the film "a weird and wonderful superhero adventure that strives—and almost succeeds—to be the most epic superhero movie ever made."

Writing for Rolling Stone, Peter Travers gave the film 2+1⁄2 out of 5 stars, praising Wan's ambition and Momoa's performance but criticizing the plot and dialogue, writing: "Aquaman is a mess of clashing tones and shameless silliness, but a relief after all the franchise's recent superhero gloom." Chris Nashawaty of Entertainment Weekly graded the film a C−, writing, "It can't decide if it wants to be silly or serious—a superhero movie or a parody of one...Unfortunately, the bloated, waterlogged film is loaded with crummy CGI, cheesy costumes, and groaner dialogue delivered by actors who are too good to traffic in such nonsense". For the Chicago Tribune, Michael Phillips gave the film 1.5 stars out of 4, criticizing the film's script and Wan's direction, saying, "Watching this movie is like spending two hours and 27 minutes staring at a gigantic aquarium full of digital sea creatures and actors on wires, pretending to swim."

Matt Zoller Seitz of RogerEbert.com gave Aquaman three-and-a-half out of four stars, positively comparing the film to SpongeBob SquarePants in its lack of concern for scientific accuracy, along with praising the treatment of characters crying as "a normal byproduct of pain or joy" instead of "a shameful loss of dignity". Seitz stated that "It takes skill to be as ridiculous as this movie.... [Aquaman]... feels simultaneously like a spoof and an operatic melodrama. Any film that can combine those modes is a force to be reckoned with."
COMIC MARKET SHARE

DC Comics and its longtime major competitor Marvel Comics together shared approximately 70% of the American comic book market in 2017. With the sales of all books included, DC is the second biggest publisher, after Viz Media, and Marvel is third.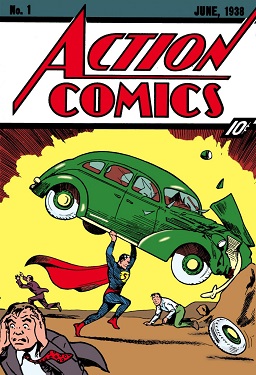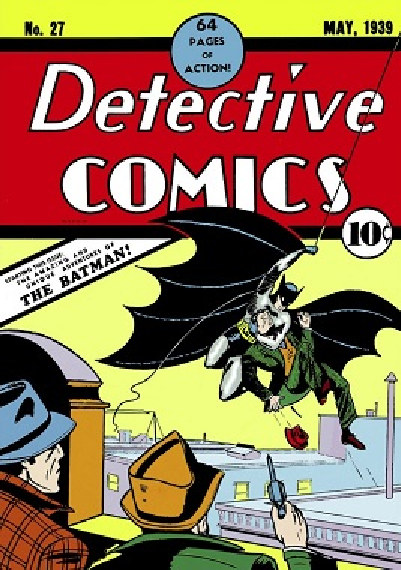 BIRTH OF THE SUPERHERO - Detective Comics, Inc. launched a new anthology title, entitled Action Comics. Issue#1, cover dated in June 1938, first featured characters such as Superman by Siegel and Shuster, Zatara by Fred Guardineer and Tex Thompson by Ken Finch and Bernard Baily. It is considered to be the first comic book to feature the new character archetype, soon known as "superheroes", and was a sales hit bringing to life a new age of comic books with the credit going to the first appearance of Superman both being featured on the cover and within the issue. It is now one of the most expensive and valuable comic book issues of all time. The issue's first featured tale which starred Superman was the first to feature an origin story of superheroes with the reveal of an unnamed planet later known as Krypton that he is said to be from. The issue also contained the first essential supporting character and one of the earliest essential female characters in comics with Lois Lane as Superman's first depicted romantic interest.
BATMAN IS BORN - All-American Publications' first comic series called All-American Comics was first published in April 1939. The series of Detective Comics would make successful history as first featuring Batman by Bob Kane and Bill Finger in issue#27 (March 1939) with the request of more superhero titles. Batman was depicted as a masked vigilante depicted as wearing a suit known as the Batsuit along with riding a car that would later be referred to as the Batmobile. Also within the Batman story was the supporting character, James Gordon, Police commissioner of what later would be Gotham City Police Department.
DC COMIC SUPER HEROES - A TO Z
Aquaman - Arthur Curry
Batman - Bruce Wayne
Superman - Clark Kent
Wonder Woman - Princess Dianna
.....