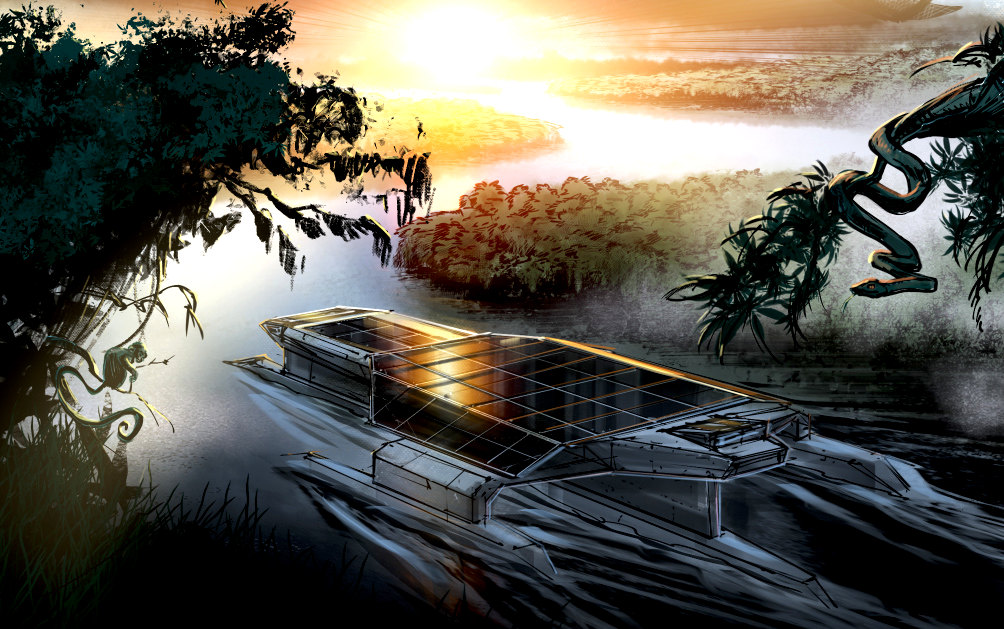 The Elizabeth Swann cruising along the Amazon to Manaus
Innerspace (usually two words, but sometime typically contracted) is the opposite of outer space, when viewed from the land, or a floating vessel, operating at sea level. Generally, where outer-space is the vast expanse once you escape from earth's gravity and travel into the vacuum (or void), innerspace is considered to be the subsea world. The underwater kingdom, if you will.
OUTERSPACE
As we have heard the phrases used, "outer space" (two words) refers to the space beyond our atmosphere. Ie, "outside Earth's space."
PSYCHOLOGY
Innerspace, is also held to be your mind, your thoughts, deep inside the brain. Your inner-self and well being, spiritual, internal self-awareness.
In popular psychology, inner space refers to thoughts, imagery, dreams, attitudes, and feelings, while outer space refers to the external environment. Such dichotomy is artificial and pernicious, leading to the proposition that spiritual growth occurs by expansion of inner space through exercise, transcendental meditation, self hypnosis, the judicious use of drugs, and so on.
Pastors alerted to this insidious psychology know that to separate existence from its milieu is both illogical and dangerous. The more insular the person, the more impersonal the society. Results can be tragic. Being an integrated inner person is to be a productive outer person. Otherwise the erosion of psychological and spiritual well-being is inevitable.
MOVIE
There is also a movie of the same name: Innerspace, starring Douglas Quaid and Martin Short, produced by Steven Spielberg through Amblin Entertainment.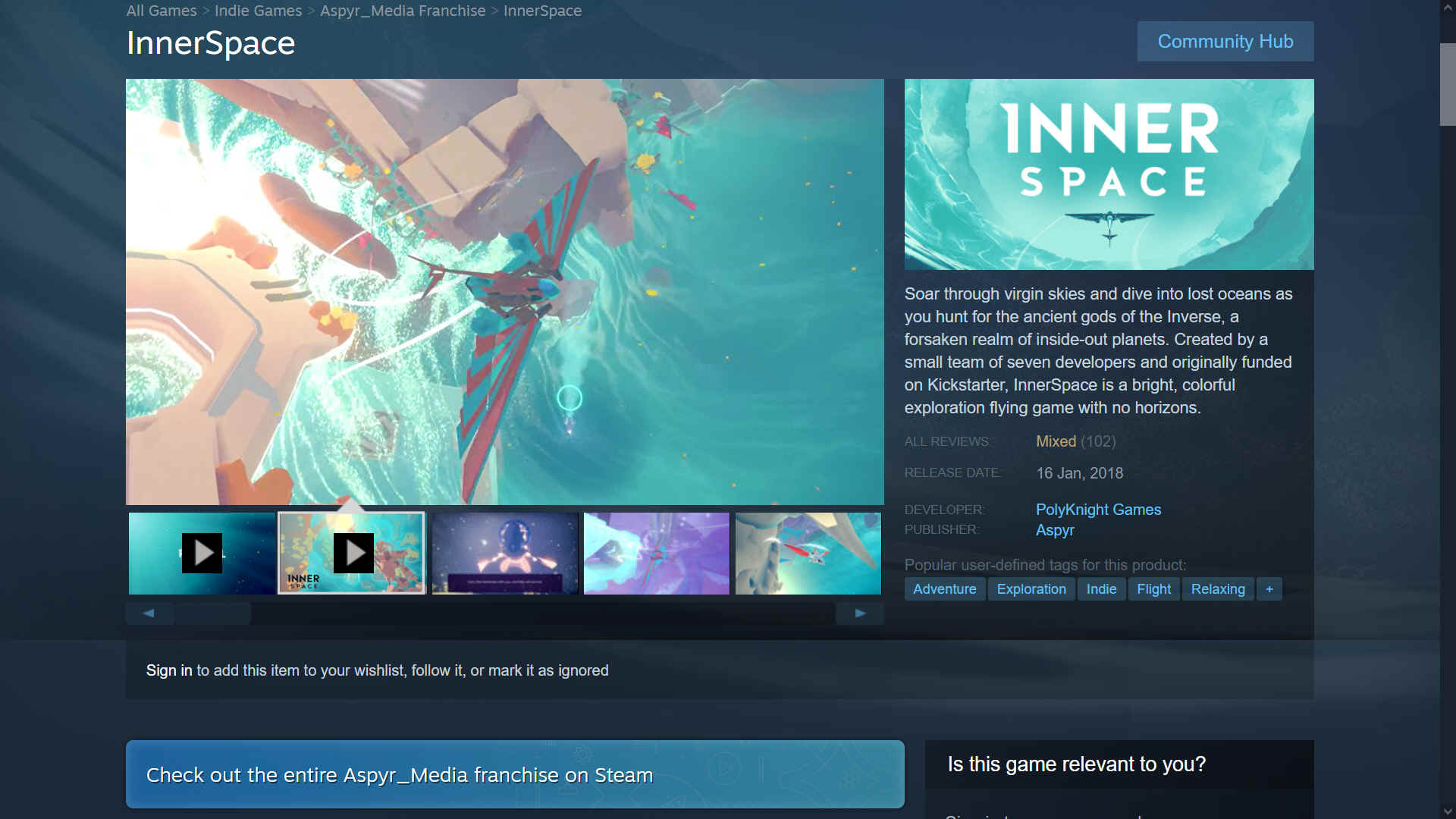 GAME
InnerSpace is also a sc-fi game by PolyKnight, published by Aspyr:
Soar through virgin skies and dive into lost oceans as you hunt for the ancient gods of the Inverse, a forsaken realm of inside-out planets. Created by a small team of seven developers and originally funded on Kickstarter, InnerSpace is a bright, colorful exploration flying game with no horizons.

In the final days of the Inverse, you must help the Archaeologist recover the last remaining memories before they are lost forever. Fly through ancient skies and abandoned oceans to discover the lost history of this fading realm, where entire civilizations have died, yet their gods still wander.

InnerSpace is an exploration flying game set in the Inverse, a world of inside-out planets where gravity pulls outward instead of in. InnerSpace began as a project among college friends and evolved into a successful Kickstarter campaign in 2014. After years of development, PolyKnight is proud to welcome you to the Inverse. Your greatest journey is within.
INNERSPACE - JOHN STORM ADVENTURES
In the John Storm ocean and climate awareness franchise, we are talking about deep sea exploration, submerged cities and lost civilizations. With a particular emphasis on relatively recent historical events in time, as relate to recorded history, such as the tsunami that wiped out the old port of Alexandria in the year 365AD (now underwater), taking with it Cleopatra's mausoleum. Similarly, the tsunami that wiped out old Port Royal, Jamaica in 1692, submerging the casket of the famous pirate Admiral, Sir Henry Morgan. These events are of archaeological as well as historic importance. Unlike the fictional titles we are developing, these are real happenings, that we are basing our original stories on, adding to the learning experience, by injecting adventure mixed with intrigue, as competing factions strive to obtain lost plunder, while John seeks to protect such artifacts, with Blue Shield, working against archaeological thefts, or straight looting of gold and silver by treasure hunters.
There are literally thousands of famous shipwrecks. Old Galleons, 2nd World War warships, submarines, the Titanic and Lusitania. Many of which are of historic significance.
ELIZABETH SWANN™ - INTERNAL DESIGN
Another interpretation of "Inner Space" is what is below decks on the Elizabeth Swann.
Spatial intelligence is a measure of how people operate within a defined area, and how things like flow and movement impact comfort, which impacts efficiency. This is especially important for a crew on long voyages, as they interact with each other and nature. Weathering storm discomfort and entering the underwater realm as sub-aqua divers. Hence, inner-space interfacing with 'innerspace.'

Logical planning of helm, cabin and galley areas and interconnecting areas is important to be more efficient and enhance productivity, but also to boost wellness, improve alertness and cultivate an enquiring culture onboard ship. Many vessel designers are exploring opportunities to exploit their floating real estate footprints. The Swann is design copyright protected.
ATLANTIS - MEDITERRANEAN SEA
ATLIT-YAM - ISRAEL
PAVLOPETRI - GREECE
PHANAGORIA - BLACK SEA
PORT ROYAL - JAMAICA
RUNGHOLT - DENMARK
THONIS-HERACLEION AND ALEXANDRIA - EGYPT
YONAGUNI JIMA - JAPAN