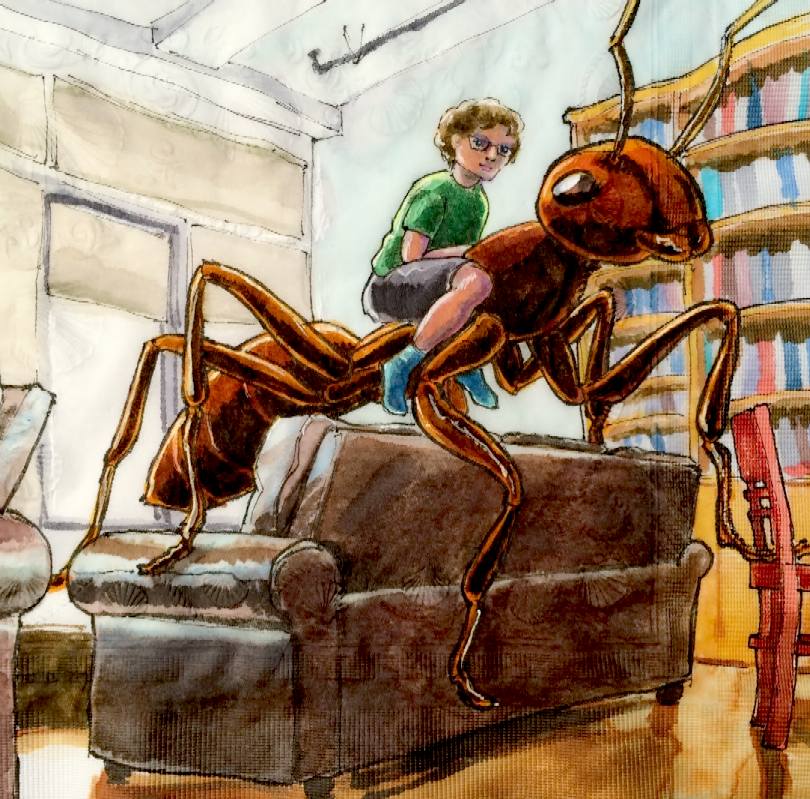 JIMMY WATSON - His mother, Marion, teases her son about his dreams to build a large robot ant with a drawing of her son riding on the ant's back. Then it comes true.

Who hasn't dreamed of having a special friend as a child - of making something extraordinary. Believing your parents would not approve. And, you'd be sent to the naughty step, or banished from the dinner table, with just sandwiches, instead of a roast dinner feast. And yet, that thought would not go away. Better to keep such ambitions to yourself. Mum and Dad would not understand anyway.
Jimmy Watson is just an ordinary boy. He attends an ordinary school. He is a loner with just a few friends, and quite a few enemies. He often wanders off into a world of his own in classes, not listening to his teachers fully, on those occasions. Although he truly admires his science master, and loves physics and maths lessons. And especially metalwork, when he gets to make things in steel and other exotic materials. Learning all about cutting, joining and even hardening methods. Another world of wonder.
Jimmy's special talent is programming. He was taught that at school quite early on. He was always in demand in teams for robot competitions. The only time he was popular at school. With his programming, and provided the robot was sturdy enough, his team would nearly always win.
Jimmy would read books on robotics from cover to cover. Sometimes, under the covers by torchlight. In the town library, he would always check out for any new books on animatronics, and mechatronics. His favorite subjects.
Then one day in the covers of a robotics magazine, Jimmy saw a kit for a hexapod, designed for developers of artificial intelligence.
| | |
| --- | --- |
| | Dreaming about a robot hexapod, Christmas wish |
| | Marion finds Jimmy's moneybox |
| | More money in the moneybox, than expected |
| | Johnny Johnson's detention, King Geek and the Geeklets |
| CHAPTER 5 | ... |
| CHAPTER 6 | ... |
| CHAPTER 7 | ... |
| CHAPTER 8 | ... |
| CHAPTER 9 | ... |
| CHAPTER 10 | ... |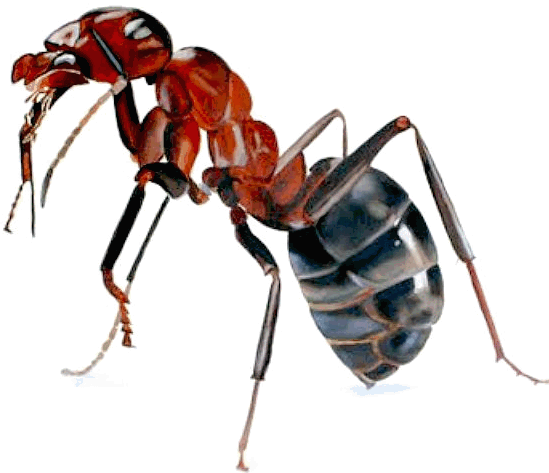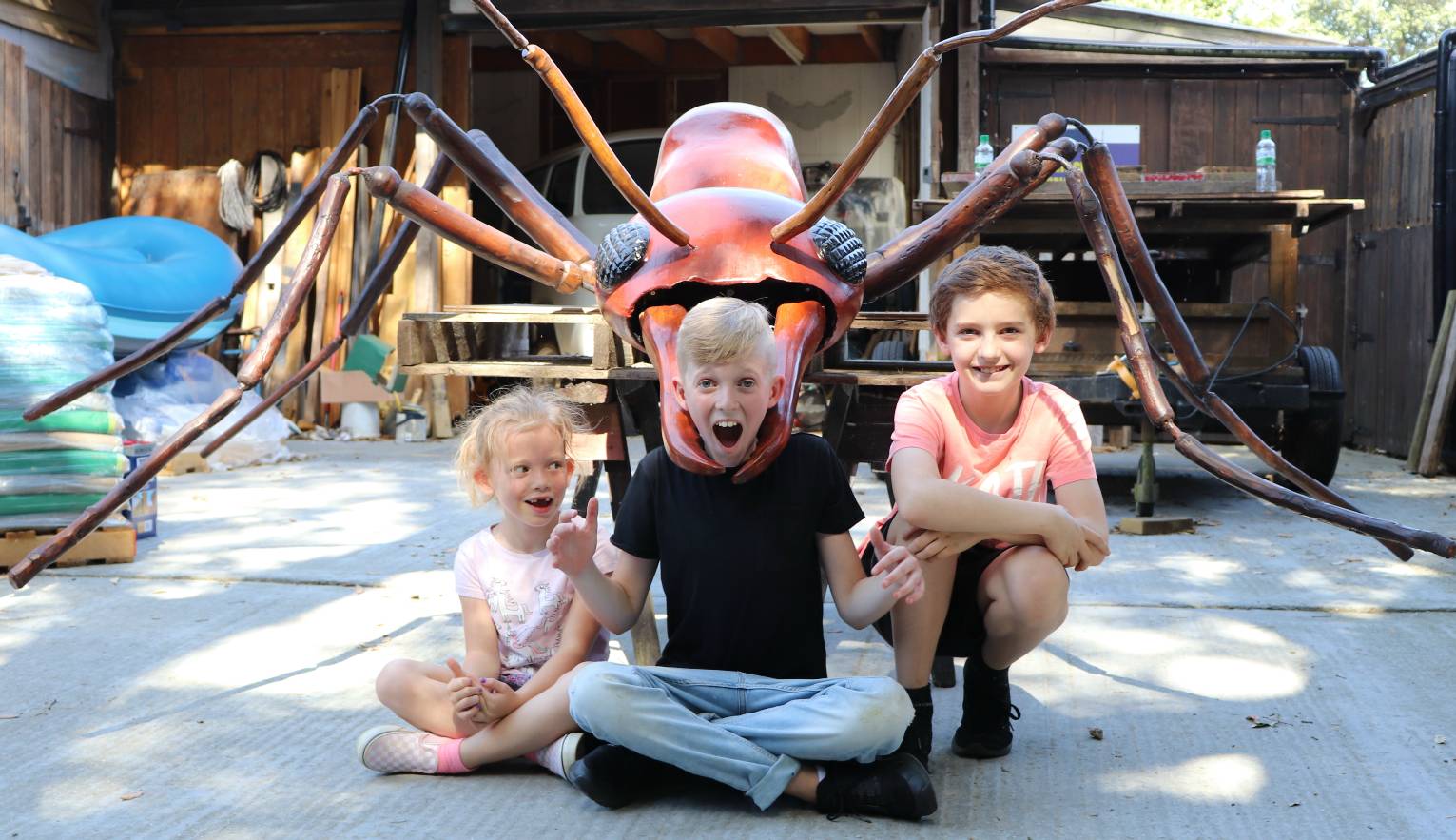 Some of Jimmy Watson's friends, with the Magic Dinobot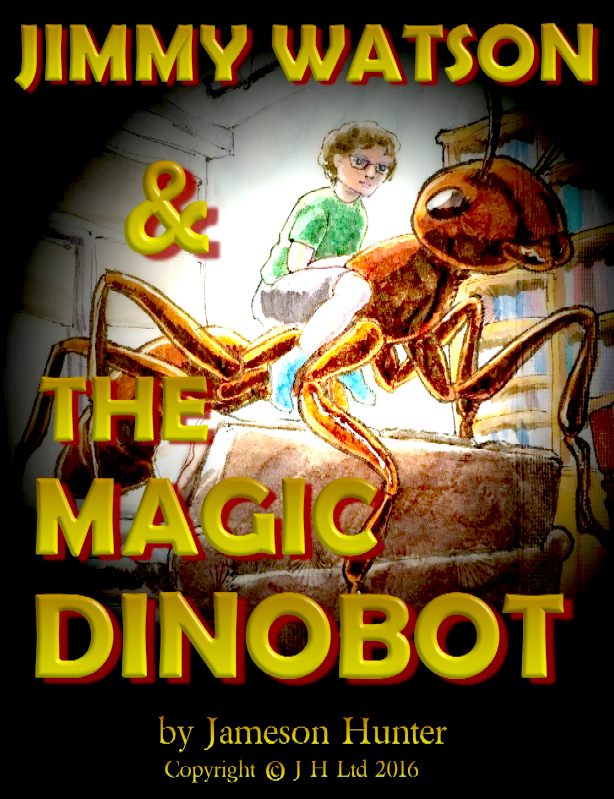 THE MAGIC DINOBOT - From Jameson Hunter, an original TV series idea, germinated in 2016. Jimmy dreams of building a giant robot ant as a special project, then one day his dreams come true when the robot he has built is transformed into a living, breathing, companion. NOTE: This story is Copyright © Jameson Hunter Ltd, March 30 2016. All rights reserved. You will need permission from the author to reproduce the book cover on the right or any part of the story published on this page.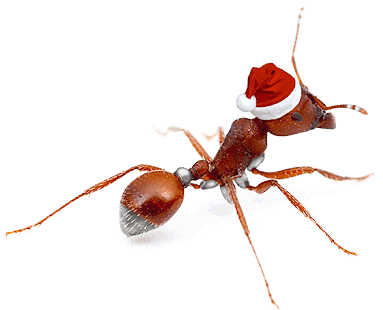 ANTICS - ARMOUR - ARTWORK - BLACK BOX - ELECTRONICS - ENERGY - FRAME - HEAD - JAWS - KITS - LEGS - MECHANICS
MOTORS - MOVIE - R/C DRONE - SENTRY - SOFTWARE - SOUND PROOFING - SPEED - SUSPENSION - TAIL - WEAPONS - WARGAMING